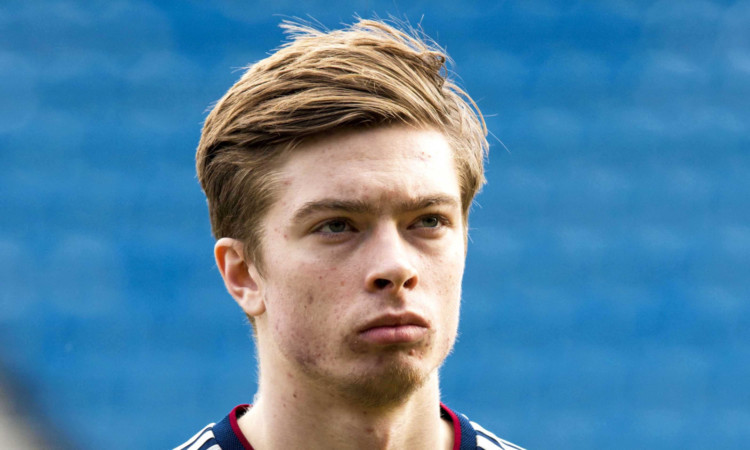 Dundee boss Paul Hartley insists young striker Craig Wighton is going nowhere and will continue his footballing education at Dens.
The 16-year-old is in just his first full season of professional football after leaving school last summer.
Despite that, the Dark Blues' support have been expecting big things from the highly-rated teenager, who was regularly lauded by previous boss John Brown.
However, Hartley is adamant that he will not be placing an unfair burden of expectation on Wighton's shoulders with Dundee involved in one of the tightest title races in years.
He is also insistent that the player will not be allowed to go out on loan instead, he will continue to carefully nurture the youngster, who has just received rave reviews from SFA performance director Mark Wotte after he was away with the Scotland Under-17s earlier this week.
Hartley said: "Young Wighton has returned from Scotland duty and he looked excellent in training. I met Mark Wotte before the Scotland Under-21 game on Wednesday night and received a good report on Craig.
"They were really impressed by him. It is difficult for him as we have just 10 games to go and it is unfair to throw a youngster right into it. He is still developing and he will play a part in it.
"I am really excited about him. I think he has the makings to reach the top, I really do. He needs to work hard but he has a good attitude and temperament.
"He also needs to develop in terms of his size and bulk but, considering his age, he has a great footballing brain. That is something you can't coach."
When asked if he would consider sending Wighton out to gain experience, Hartley insisted: "He will be staying here he isn't going anywhere. We want to look after him.
"He does have a bright future ahead of him but there is too much resting on this season to throw him in at such a young age. There are times when we will bring him in and take him out but I am really excited about him.
"We will try to nurture him and he needs to play 100 to 150 games here. But he will not be going anywhere as long as I am Dundee manager. He will be staying for the foreseeable future.
"He has another two and a half years left on his contract and he will play a big part at this club. He needs to play and develop to get game knowledge.
"We certainly don't want him to rush away like some other youngsters have done to England and disappear. We want him to play here. He is still only 16, a kid, and has to be totally professional but he seems to have his head screwed on.
"So we will work with him and hopefully give him the opportunity to develop here."
Dundee played a practice game yesterday morning and it gave the manager a chance to further assess former Blackpool front man Craig Sutherland who has been training with the Dark Blues.
Hartley would like to give the free agent a further chance to impress against opposition from another club but he admitted he has been frustrated in that desire so far.
The manager added: "We had a bounce game among ourselves just to keep the lads ticking over.
"Sutherland played and looked really sharp. We have been trying to get a game for Monday night. We have been on the phone attempting to arrange something but so far it has not been easy."