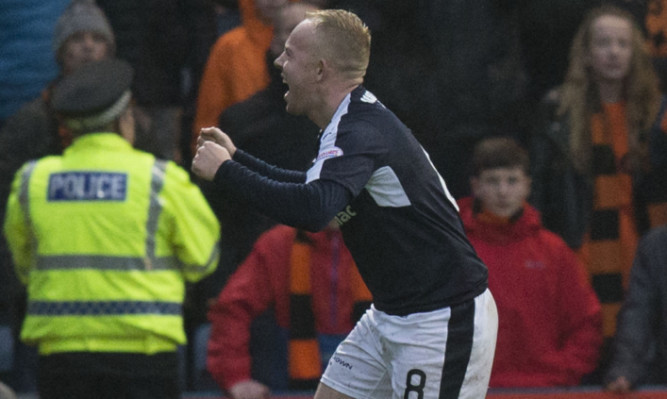 Nicky Low has revealed that the Dundee players pledged at half-time in Saturday's derby to secure all three points for stricken team-mate James McPake.
The big centre-half had to be stretchered off early on after suffering a dislocated knee cap when he tackled John Rankin.
The Tangerines opened the scoring through Blair Spittal from the resultant free-kick with the Dark Blues managing to pull one back just before the break thanks to Kane Hemmings.
Low admitted that the Dundee players had been rocked by what had happened to McPake with the midfielder unable to even look at the injury when it happened.
However, at half-time, the Dark Blues promised to do everything they could to take all three points which they did thanks to a second-half goal from Nick Ross, with the Dundee squad dedicating the win to McPake.
Low said: "It is disappointing as Jazza (McPake) is a big player for us.
"He is in our car school so it was even more disappointing for me to see that.
"I just saw the tackle flying in and then I heard Jazza kind of scream. He is a strong boy and he wouldn't be doing that for nothing but you could see his leg wasn't sitting right.
"I didn't want to go right over but one of their boys said his knee was lying right over the other side.
"I couldn't look at it. I was speaking to Gav Gunning there and he says it is the worst injury he has ever seen. He has had a few injuries himself and has been out for a couple of years so you know it is bad.
"The physio said his knee bone has separated so it is a big blow for the boys.
"The first-half was hard after that. He is an absolute leader and he is massive for us.
"It was a great three points for us but it took the shine off the match.
"We dedicated the win to Jazza. It doesn't change what happened but it will cheer him up.
"We said at half-time, let's go and get the three points for him."
While Low acknowledged McPake will be a big loss to Dundee on the pitch, he is also going to miss driving to work every day with him from the west in their car school.
He said: "There's James McPake, Gary Irvine, Gary Harkins, Paul McGowan and myself.
"It is a good car school with a lot of banter. Gary Irvine is the driver.
"Jazza and Paul McGowan kind of kid-on fight in the car.
"McGowan wasn't in one day as he was unwell so Jazza went away, bought a WWE belt and then told him he was champion.
"That's the sort of banter we have in the car and it flies in.
"So we will miss him but he will be back as he is a big character."
Low added: "He is probably one of the strongest guys in our team.
"It will be a hard couple of weeks for him of course but his family and kids will cheer him up.
"He will bounce back but it is a big disappointment for us so hopefully we can get through to the next round of the Scottish Cup next week for him."
Low was involved in a real ding-dong battle throughout the game with United's Guy Demel with the former West Ham player ultimately being sent off after picking up a second yellow card for a clumsy challenge on the Dundee midfielder shortly before the end.
Low said: "I like a battle myself although he is a bit bigger than me!
"In the first-half, he just ran by and kicked me when the ball wasn't even there.
"He gave me a dead leg but the referee didn't see it.
"I haven't watched it again yet on TV but someone said he should have been sent off for it.
"In the second-half when I went down, I wasn't trying to get him sent off I only thought it was a free-kick.
"It is one of those things, where I have never asked to get a player sent off.
"I just felt him pulling me and I went down.
"I got my body in and he has come through the back of me.
"I was just being clever going across him."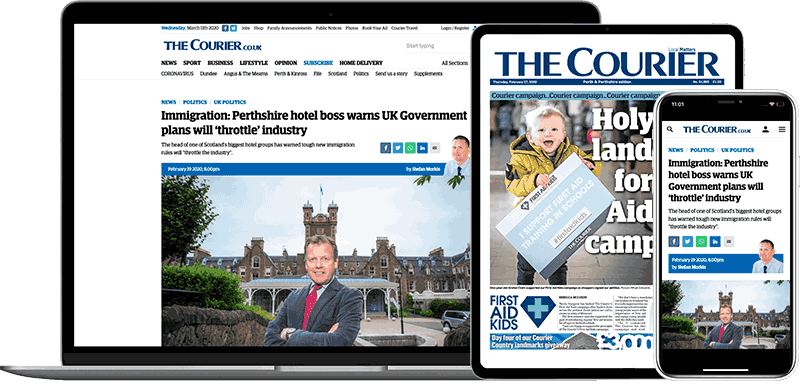 Help support quality local journalism … become a digital subscriber to The Courier
For as little as £5.99 a month you can access all of our content, including Premium articles.
Subscribe