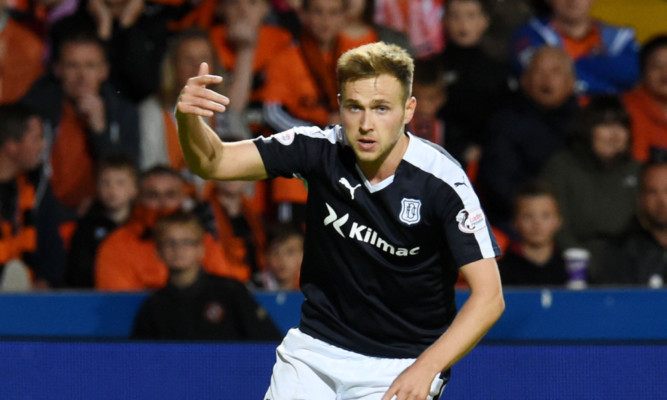 Greg Stewart insists he is delighted to see Kane Hemmings hit top form for Dundee despite his pal having beaten him to the 15-goal target.
Back at the beginning of the campaign, manager Paul Hartley told Stewart, Hemmings and Rory Loy that he wanted them to get at least 45 goals between them this season, with the player who reached their third of the total first getting a big pat on the back from the boss.
Hemmings got there before the others thanks to his excellent second strike in the Dark Blues' 3-1 Scottish Cup fourth round win over Falkirk on Tuesday night.
Mind you, Stewart isn't doing too badly himself with seven from as he was at pains to point out a deeper role than his mate is currently playing.
While the banter between buddies can be fierce at times, you do get the feeling that Stewart is genuinely enjoying seeing his former Cowdenbeath colleague hit the heights, with Hemmings on a run of nine goals in his last six matches going into today's home Premiership clash with Motherwell.
Asked if he was a bit miffed at being pipped to 15 goals by the Englishman, Stewart replied: "I'm in midfield now so.!
"Seriously, we did set targets before the start of the season and it's always nice to get there before your mates so he'll be happy.
"All credit to Kano he has been flying.
"In the last two months, in particular, he has been banging them in.
"I am delighted for him personally and hopefully he keeps on doing that for Dundee and takes us up the league.
"We go back to our Cowdenbeath days, me and Kano, but that's all past now.
"We just want to kick on together for Dundee and see where that takes us.
"He has just come back up to Scotland this season and has been trying to find his feet again.
"You could say he struggled a bit early on but I always knew he could produce and he has certainly shown that.
"It's not just about his goalscoring, however.
"His other play is good as well.
"He can hold the ball up and the manager having changed the formation has helped him, with him."
Stewart was asked if it was reasonable to suggest that, in this form, Hemmings is more important to Dundee than the Premierhsip's top scorer, former Dens man Leigh Griffiths, is to Celtic.
"Yes, of course he is because at Celtic they create numerous chances – certainly more than we do at Dundee because of the players they have there.
"So to go on a run something similar to what Leigh has done is brilliant for Kano and hopefully he can keep doing it."
So how is Stewart enjoying playing his midfield role?
He added: "It's hard to say but you don't have to track back as much if you are up the pitch!
"I do get on the ball more in midfield so I enjoy that.
"You just have to do your bit for the team and I am still learning about tracking back and defending.
"Your first instinct when you get the ball is, 'Can I score?'
"So I'm still about the other side of the game and hopefully I can become a better player."
The transfer window hasn't quite slammed shut yet it will do so on Monday but Stewart remains a Dark Blue at least for now, a situation with which he feels completely comfortable.
He said: "Nothing is really happening and I just want to concentrate on Dundee at the moment.
"If anything does happen then that's just football but I want to focus on doing my best for Dundee and see where it takes us at the end of the season.
"You do get that (speculation) but you just need to concentrate on your own game, work hard and do well in training every day.
"Then, on a Saturday, you hope that you can go and get a victory for your team.
"So there is nothing else to think about other than doing my best here."