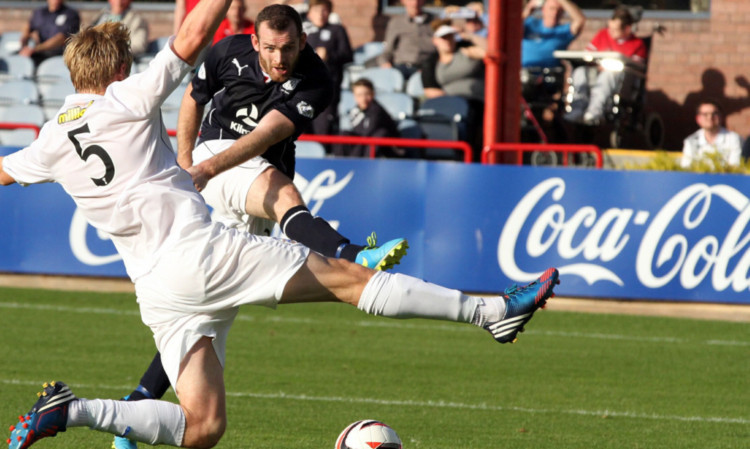 Dundee boss John Brown believes that with Craig Beattie ending his scoring drought on Saturday, it will now start raining goals for him.
Prior to the weekend counter against Morton his first for Dundee the Beattie had last netted for Hearts against Celtic in the Scottish Cup semi-final in April last year.
After leaving Tynecastle, the 29-year-old had frustrating spells at St Johnstone and Barnet.
However, Brown is confident Beattie will recapture his best form and will be hitting the back of the net regularly.
The manager said: "That goal will do wonders for Craig's confidence. He's a chirpy lad anyway who has played at the highest level, but it's still good to get a boost.
"He's been buzzing in training as well, so I would expect him to go from strength to strength.
"Strikers sometimes just need to get their first goal and then they're up and running.
"As long as he stays fit between now and the end of the season, I'm sure Craig can help keep us in the mix."
Beattie's goal came after he latched on to a partially-blocked Nicky Riley shot, and Brown also paid tribute to the winger's contribution.
He said: "It was great to see Nicky back to his best. He's had a tough time with injuries in the past, but hopefully that's all behind him now and he can do what he does best."
Before Saturday's game, Brown met the club's American backer, Tim Keyes, and the manager was impressed by the Texan businessman.
He said: "I met Tim for the first time on Saturday. He is full of enthusiasm and looking to the future.
"I just told him that up until now we had been disappointed with the way one or two of the games had gone and that we needed to brush up on our finishing. The boys put on a decent performance for him coming over and it was good to meet him."