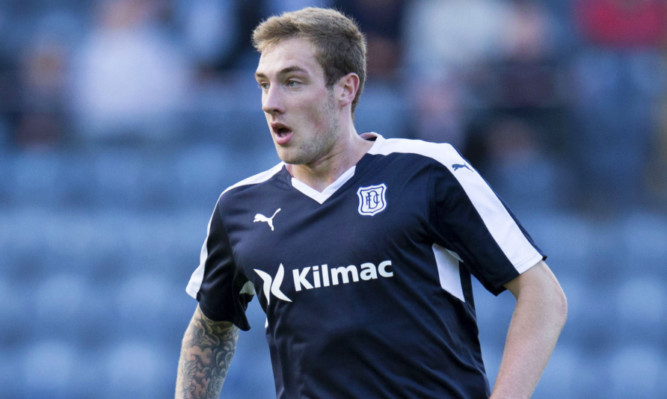 Kevin Holt admits he has not had time to catch his breath since he made the step up to the Premiership from Queen of the South to Dundee.
That's because he has been taken aback by the pace of some of the wingers he has faced including November Player of the Month St Johnstone's Michael O'Halloran as well as two key performers for today's opponents Aberdeen, Jonny Hayes and Niall McGinn.
However, 22-year-old Holt admits he has been working hard with Dundee''s fitness coach Tam Ritchie to get fully up to speed.
The full-back said: "It has been a big step up coming into the Premiership more than I realised.
"When you come up against better players, you notice the difference.
"The pace of the game is the biggest thing. Teams at this level turn defence into attack much more quickly.
"You have to cope with that as a team but as an individual it takes getting used to.
"Sometimes you feel that guys are on top of you all the time and you can't get a breath.
"When you are having a wee off day you might get through it in the Championship but you don't at this level.
"You want to challenge yourself against the best players and come up against people like Michael O'Halloran, Jonny Hayes and Niall McGinn.
"Those three are some of the toughest guys you come up against they are very good wingers.
"There are also guys like Dougie Imrie. They all have pace and you have to be really on your game to cope with them.
"You want to test yourself against these guys but you need to be switched on.
"The pace they have is the biggest thing and I think I'm coping with it better now.
"I have been trying to improve and get sharper, because it's over five yards they react.
"The fitness coaching here has been a big help. I've been working hard to get up to speed and I think I'm getting there.
"Over the summer I got the same general fitness back as I had last season but that extra wee bit of sharpness you need at this level is what I've been working towards.
"I definitely feel a big difference but I want to keep improving."
That desire to improve himself is being helped by the influence of some of his team-mates.
Holt added: "Having James McPake and Julen Etxabeguren has been great for me.
"Last season I had Andy Dowie and Chris Higgins, who are both experienced defenders.
"As a younger player, you need someone to talk you through things.
"So it's been good for me to have experienced players here to learn from. You always want to pick things up from the people around you.
"Even though Julen is fairly young as well, he had a great grounding at Real Sociedad and is also a good talker on the pitch."
Dundee have drawn their last four games and Holt admits he is frustrated that some of those stalemates have not been turned into wins.
He added: "We have started the season fairly well but we want to get back to winning games.
"The draws are frustrating because when we were not playing well and getting a point it was OK, but I feel we have been playing well.
"It won't take much to turn them into victories, though, and hopefully we can get one this weekend.
"The main thing is we're not losing matches, so that's a positive."