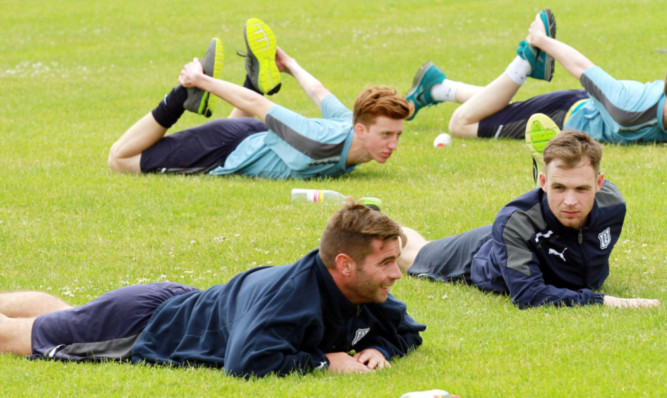 Dundee boss John Brown believes trialists at the club have done their chances of winning a deal at Dens Park no harm so far ahead of tonight's trip to Montrose.
The Dark Blues travel to Links Park for their latest pre-season friendly boosted by their weekend closed-doors win over Hamilton, with trialists Carlo Monti and Jack Cowan among the scorers in a 3-2 victory.
Young striker Craig Wighton was the other scorer on Saturday and Brown has been pleased with how all the players have been shaping up at such an early stage in their pre-season preparations.
"We've had a few trialists in and we'll be looking at them over the next three games," he said. "I thought it was very worthwhile at the weekend and Carlo Monti and Jack Cowan scored two good goals. Monti has not been out of place and you can see he's got an eye for goal.
"He could have had two or three on Saturday and I've said to him we'll have another look over the next two or three games and take it from there.
"Craig also scored a fantastic goal and there are a lot of people talking about him so he'll come on well this season. But it's all about match fitness. As I said, it all kicks off on August 10 for us with the league.
"It's about making sure the squad have had enough game time so they are well ready for it. If you get the results on the way then great, but we'll be looking for performances.
"Getting match fitness is important. Even if you look at Saturday, they had two hard days on Thursday and Friday leading up to the game and it was about seeing how they cope when the body is tired. I thought they did very well on a hot day on Saturday."
Trialist keeper Kyle Letheren was forced off with a thigh injury at the weekend and will not feature tonight, meaning 16-year-old John Bonnar will again play some part.
However, another trialist keeper has also been brought in and Brown will use tonight's outing to have a look at him.
One player who will also play this evening is midfielder Gavin Rae, who has shrugged off any concerns about playing on the synthetic surface at Links Park.
Brown added: "I was planning to keep him back until Saturday but he's keen to get 45 minutes and when you've got all these type of players wanting to play then it's a good thing to have.
"By the time we get to St Johnstone and Rangers, we'll be looking to get the full first team boys fully up to tune. We're probably going to have a quarter of our season on astroturf so it will be good for a lot of the boys to get a feel for the surface.
"Generally it takes a couple of days to recover from being on these surfaces but the technology now is such that it's a lot easier on the body.
"When they started to come in they weren't the best, but they are usually of a good standard now.
"But it should be a good workout against Montrose and it gives us the chance to have a look at a few more players."
Entrance to tonight's game is £5 for adults and £2 for seniors/children.
Meanwhile, Dundee will travel to play Lochee United in their final pre-season friendly on Saturday August 3.
The game will be played at Thomson Park and more details about the fixture will be confirmed nearer the date.