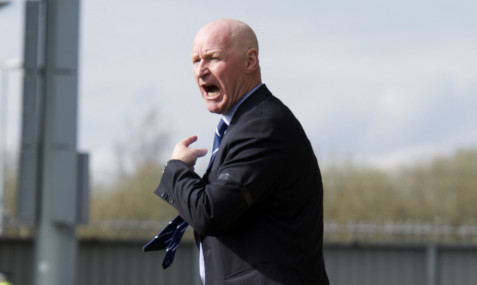 Dundee boss John Brown insists he is convinced that teenage striking sensation Craig Wighton will commit his future to the club.
The 15-year-old Harris Academy pupil has been starring for the Dark Blues' Under-20 side this season and he produced another sparkling performance on Monday night, scoring two goals that secured victory over Ross County.
Brown missed that game as he was at Easter Road running the rule over bottom six rivals Hibs and Aberdeen but he received a ringing endorsement of Wighton's continuing development from assistant manager Ray Farningham.
Brown believes that despite inevitable interest from elsewhere in the youngster, he will put pen to paper on a deal at Dens this summer.
Brown said: "Jinky was at the Under-20s game and he says the boy is a talent. The boy has a future and has loads of potential. But what I will say is, potential is just potential, you have to work at your game.
"Once he comes in, he will be involved in training with the first team to get him up to that level.
"He is just 15 at the moment and he can't sign a contract until his 16th birthday but he is committed to us and his family are happy with that. A lot of people might try to come in here and take him but we have no fears.
"I have had a good background from my Rangers days working with 15 and 16-year-old kids and doing the old-school thing of discipline, respect and working hard football wise.
"So I think the boy has a great opportunity to learn at Dundee and he could be a big player for the club in the future."
Brown is still the interim manager but he revealed that no matter who is finally appointed on a permanent basis, they will benefit from a new emphasis on the youth system at the club.He said: "What we are trying to do at the moment is to bring in the better schoolkids who are going to be the future of the club.
"Last Friday, the Celtic U20s, who are comfortably winning that league, gave us a good test but the boys stood up to it.
"Although they got beaten, it was another step in their education and that will be good for the first-team and the manager, whether that's me or someone else, for the future."