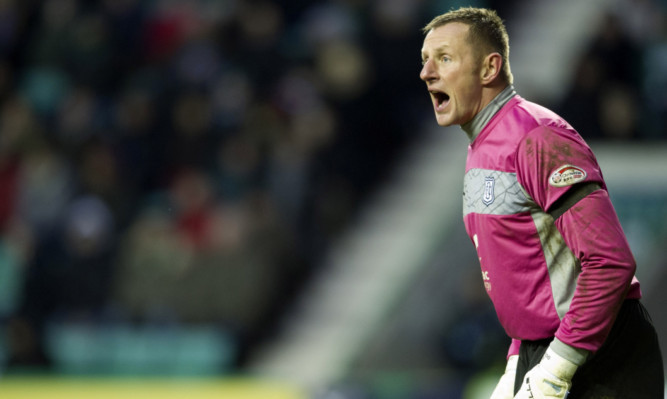 Rab Douglas has played his last game for Dundee after Dens boss John Brown revealed that the keeper will not be offered a new contract.
The veteran stopper had a much-publicised bust-up with the manager prior to the derby with United back in March.
Douglas was irate that Brown had drafted in goalie Steve Simonsen to replace him between the sticks for the big game however "Bomber" insisted it was a decision he had to make because the former Scotland stopper had been struggling with an injury.
Now, though, there is no way back for a player Brown himself described as a club "legend" with the manager also revealing that another two players are set to head for the Dens Park exit.
He said: "Don Cowan is leaving the club and Davide Grassi and Rab Douglas will not be offered new contracts.
"We are letting Rab go for footballing reasons. He has been a model pro over the years but we had a discussion and it went a certain way. As manager of the football club, I deal with disciplinary side of it and I have done that.
"But I wish Rab all the best. He will always be a legend at Dundee."
The dust has still not settled on the Dark Blues' contentious game against Aberdeen at the weekend with Brown standing by comments he made about Peter Pawlett and the dive which earned the Dons a penalty and consigned Dundee to the drop down to the First Division.
The Dens boss reiterated what he felt about the player and the officiating and when asked if he would turn his back on the Scottish game if he was punished for speaking his mind, he insisted: "Absolutely. If I am pulled up for making a comment about a guy taking a dive and the referee not acting on it . . .
"I am sure they will be acting in private with the referee. I am in my rights to say what I did. The bottom line is that I am acting in the best interests of Dundee Football Club.
"The fact that we are in the First Division now through a player who cheated us and officials that never dealt with it means people will be losing their jobs here.
"So if they feel they can ban me when I am sticking up for people who have to pay mortgages, I will not be accepting that. I think it would be deplorable if I got a ban for that. If they act, it sums up Scottish football at the moment.
"The lad has got previous. I think if the officials had done their homework they would have known that here was a guy who had taken dives in the past.
"So they would have known to watch out and be careful as he has conned other referees. I am sure down south, referees have been warned to look out for your Joey Bartons and people like that over the years.
"Surely officials should know who the dodgy characters are and to watch out for them.
"So if I was to be banned for making my comments where people are concerned about losing their jobs at this football club, then I will have nothing to do with Scottish football, I can tell you that."