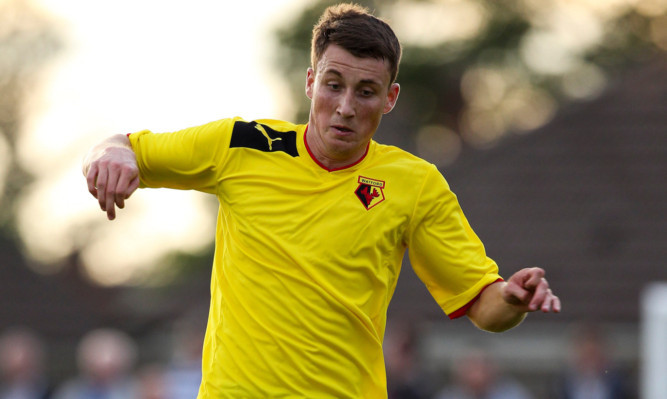 GARY HARKINS may soon be on his way back to Dens Park but his former team-mate Craig Forsyth insists he is determined to stay and fight for his place at Watford.
The 24-year-old had a successful first season after leaving Dundee for the Hornets in the summer of 2011, scoring five goals in 22 appearances.
However, he fell out of favour when Gianfranco Zola was drafted in to replace manager Sean Dyche last summer.
The new regime at the English Championship club is bankrolled by the Pozzo family in Italy, who also own Udinese, and they sanctioned a whole host of signings to bolster the squad at Vicarage Road.
Forsyth soon found himself frozen out and was forced to go on loan to Bradford at the end of last year.
However, he has now returned to his parent club and while he admits he is flattered to hear of rumours about a possible return to Dundee, he is fully focused on forcing his way into Zola's thoughts.
He said: "I am back at Watford training and working hard but it is difficult to get into the team because of the size of the squad here now.
"The way the boys are going in the league, it doesn't look like I am going to get much game time. I haven't spoken to the manager about my situation but I have chatted to other people around the club and they have said, with the team doing well, it's unlikely that he will be making a lot of changes.
"It is very frustrating, especially as I thought I did well last year and I wanted to push on this season.
"I want to be playing football and if I am not getting that opportunity, then I may have to look at my situation. There is no need to rush into making a decision, though, as I still have 18 months on my contract and I will just have to keep my head down, work hard and hope to convince the manager I am deserving of a chance.
"I still have lots of mates who support Dundee and they are always letting me know about rumours that I will be returning to the club. However, I am determined to give it my best shot down here and would be reluctant to return to Scotland.
"Hopefully, things can turn around for me at Watford. When the new manager came in he brought in 16 or 17 new players so there was always going to be a lot of competition for places.
"So I just need to accept where I am at the moment, not get too down and continue fighting for my place."
Forsyth may be determined to sit tight but he admits that if his former team-mate Harkins does return to Dens on loan from Kilmarnock, then it would be a real coup for Dundee boss Barry Smith.
Forsyth added: "Any side would benefit with 'Jeebsy' in the team. He scores a lot of goals and sets them up as well.
"If he goes back to Dundee, I am sure he will be a big success again. It is somewhere he knows well and he is loved by the fans so I think it would be great for him and the club."
nrobertson@thecourier.co.uk