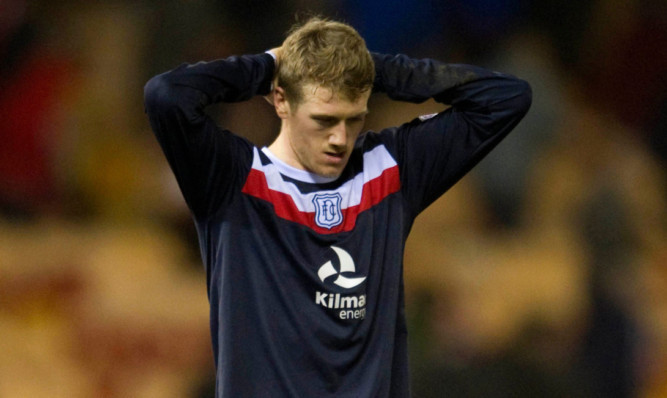 Dundee manager Barry Smith believes his players showed at Pittodrie last night that they have not given in.
The Dark Blues are still 15 points adrift at the foot of the table after their 1-0 loss to the Dons, which came courtesy of an excellent individual goal in the first half from striker Niall McGinn.
However, Smith seemed satisfied that his men gave their all in terms of effort and rightly claimed they had the better of things after the break.
What was missing was a cutting edge up front but it was certainly not a case of gloom and doom in the Dens camp.
"It is a hard one to take because I actually think we dominated the second half and created chances in the first," said Smith.
"Again, I can't fault the boys for their effort and workrate. We just need that wee bit more quality in the final third.
"I have never questioned their attitude and I think that performance shows none of them have given in. We are pleased with that but we need to be taking our chances.
"We will keep working hard and performances like that will keep giving us hope. I can't ask any more in terms of work and effort. It is just the finer details that we are not doing well enough at this point in time."
The 18th-minute winner, while superbly taken by McGinn, saw the deadly frontman race up the park unhindered.
"We spoke about that in the dressing room," said Smith, in reference to the lack of a challenge on the ex-Celtic man.
"These are the small margins that win games and lose games. We switched off for a very short space of time and lost a goal."
Aberdeen boss Craig Brown, whose players were booed off by a section of their support despite picking up their first win of the year, paid tribute to the Dark Blues for the way they battled.
"The credit goes to Dundee in the second half because they came out and played very well," said Brown. "Dundee will take points off our rivals that's a certainty.
"They should not be isolated where they are in the SPL. We have played them three times and on every occasion they have played well better than teams further up the league in my opinion.
"I genuinely and sincerely say Dundee will pick up points and our rivals will have to do well to beat them when they play them."
For more from Pittodrie, including a full match report, see Saturday's Courier or try our new digital edition.