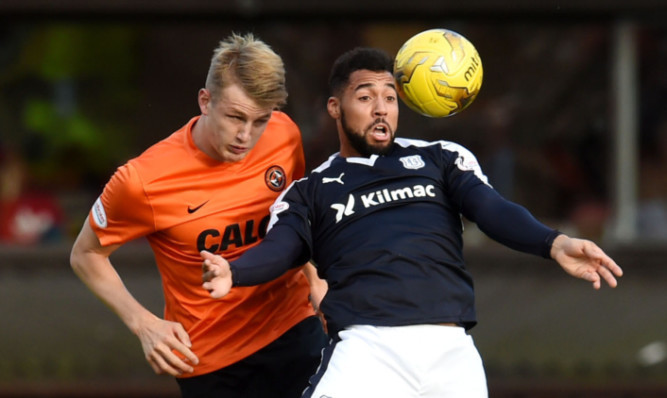 Courier Sport's football writers Eric Nicolson, Ian Roache and Neil Robertson concentrate on Sunday's Premiership clash at Tannadice and, with the help of some television titles, give their views on the burning topics in the lead-up to the game.
Q Still Game. Maybe we are biased but surely the Dundee derby is one of the best fixtures Scottish football has to offer. Agree?
IR: As a Dundonian, it has been a genuine source of pride that the animosity sometimes seen in other cities at derby time has mainly been missing from "our" one. United's position at the bottom of the table means it could be wiped from the fixture list next season so let's enjoy this one in case it goes into hibernation.
NR: While Dundee fans may have revelled in their neighbours' struggles this season, how many of the Dark Blue faithful in their heart of hearts will miss the derbies next season if United do go down? More than a few, I would be willing to wager. The quality may waver on occasion but the games are never dull and if they are to go into abeyance, then it will be the City of Discovery and Scottish football's loss.
EN: When The Courier's very own Christian Dailly tells you the good people of Essex have been speaking to him in the street about how much they've enjoyed watching a Dundee derby you know you're on to something. There always seems to be a story going into one and, for whatever reason, the players seem to go for it more than in the Old Firm and Edinburgh derbies.
Q Scotch and Wry. National squad call-up man Scott Bain believes Dundee need the points as much as United do but he can't be serious, can he?
IR: I think we all know the answer to this one and so does Mr Bain.
NR: I was part of the press posse interviewing Bain after the Hearts game and he insisted the derby does mean as much to the Dundee players. However, aiming for a top six finish is in no way comparable to fighting for your Premiership survival and United must surely have the greater incentive to win.
EN: The lads are right but Dundee's season is in the balance. If they fail to make the top six the only way their fans will go into the summer happy is if they relegate United in another derby.
Q City Lights. Who do you think will be the star men for both teams on Sunday?
IR: United will be looking to repeat their Ross County form and forget about Motherwell. I feel Billy Mckay will be a key man for them now that he is back scoring goals. Over the road, Kane Hemmings will be the one to watch up front for the Dark Blues and both he and Mckay would be a good first goalscorer bet.
NR: For United, it has to be Paul Paton. It is no coincidence that the relative upturn in fortunes for the Tangerines has come after the combative midfielder returned to their ranks following injury. Dundee will be hoping that skipper and influential playmaker Gary Harkins can recapture his best form. He struggled during the Rangers rout at Ibrox and was substituted against Hearts on Saturday. The Dark Blues need "Jeebs" to make an impact against United.
EN: I've got a feeling Harkins won't play. Greg Stewart has been the man for the derby and I would play him more centrally. United? It's all about their centre-backs. Gavin Gunning needs to be fully-concentrated or they'll have no chance. That hasn't been the case often enough in his second stint at Tannadice. At the other end, Blair Spittal seems to come good in this fixture.
Q Only an Excuse? United don't have their injury troubles to seek but do you think their goalkeeping crisis will have eased?
IR: I certainly hope Eiji Kawashima is back fit but he, of course, was at fault for Dundee's first goal in the festive fixture. He still looks a safer option than Michal Szromnik, whom I thought could have done better at both of Motherwell's goals on Friday night.
NR: The failure to bring an experienced keeper in last summer to replace Rado Cierzniak was a glaring error on the part of the previous United management regime and it continues to haunt the team now. Even if Kawashima is fit to take his place between the sticks on Sunday, there is nothing more certain that Dundee will pile the pressure on him as they did at Dens at New Year.
EN: The goalkeeping oversight was Jackie McNamara's worst error in a dreadful summer transfer window. There's no getting way from it, United fans will be edgy when corners and crosses are coming into their box. On the plus side, Dundee aren't the tallest side in the league.
Q Balamory. What's the story are Dundee still suffering from an Ibrox hangover?
IR: Losing to Hearts isn't a disaster and I hear Paul Hartley's side didn't play too badly. The Dens men have too much left to play for this season to risk dwelling on previous results.
NR: There is no getting away from the fact that the Rangers result was a hammer blow for the Dundee players and their manager. However, they did create plenty of chances in the second half against Hearts and definitely deserved at least a share of the spoils. So as disappointing as the Rangers result was, I don't think it will have any bearing on Sunday's game.
EN: Hangover isn't the right word but they'll certainly not be as confident as they were pre-Ibrox. This could be the perfect match-up for their flair players though. United let you play and if it's a 'you attack, we attack' contest then that will bring the best out of Stewart and co.
Q Chewin' The Fat. Speaking to family, friends and colleagues, how do you sense both sets of supporters are feeling going into the big match?
IR: At one point there was genuine concern among some United fans that Dundee could be the ones to put them down. The upturn in form and results has ensured that won't happen this weekend at least. Nevertheless, I imagine the Dundee fans will have the song book ready and will be there to rub it in to their relegation-threatened rivals.
NR: Believe it or not, one pal of mine who is a Dundee fan insists he hopes his side do not finish in the top six just so the Dark Blues have another derby after the split and the chance to finally relegate United. That may be an extreme minority view but the majority of the away fans will not miss any opportunity to rub it in on Sunday if Dundee are on top.
EN: Has Wagner been given a ticket for the Dundee end? The build-up to the last derby at New Year was a battle of who was more pessimistic. Both sets of fans feared the worst going into that one. I definitely get the feeling that Dundee supporters are more confident this time around and if my United diehard neighbour is anything to go by, it's just a matter of when rather than if his team go down.
Q The Singing Kettle. The home fans will be in the majority but the away stands will be packed out too. Do you think the atmosphere will get to the players?
IR: Both sets of players should relish the atmosphere and count their blessings that they are well paid to be play in such a terrific fixture.
NR: This will be the third derby of the season so even players new to both clubs over the summer are used to them now and I would be surprised if any of them were daunted by the atmosphere.
EN: I don't think it will be the atmosphere that will get to them but United definitely appear to be a more fragile bunch. With the odd glorious exception (Dingwall) they go into their shells far too easily. Motherwell last Friday was the latest example. I'd fear for them if they lose an early goal.
Q Monarch of the Glen. OK, here's the big one which team do you think will be lording it over their rivals come the full-time whistle?
IR: I think a lot depends on which United team turns up. Play like they did against Ross County and they will probably win but if it's a second half at Fir Park repeat then they will lose. At a push, I just think the home team will sneak it because their need is the greater.
NR: Like Ian, I honestly feel that despite all the Dundee protestations, there is so much more at stake for United. Whether that proves to be an incentive or millstone remains to be seen. However, for no other reason than a gut feeling, I believe that Dundee might just sneak it.
EN: I don't think the need for points comes into it. Aston Villa needed to beat Spurs last weekend but they didn't. Dundee are the better team, you just have to look at the league table. And, luck has been on their side in this fixture this season as well. An away win for me.