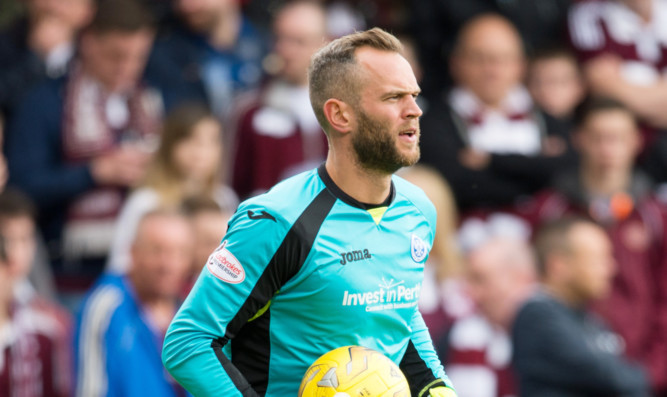 Alan Mannus is hoping to top off a special week with a Tayside derby victory.
The St Johnstone keeper became a proud dad last weekend with the arrival of baby Mason.
The timing of the birth meant Mannus missed out on the latest Northern Ireland friendly internationals, but he will be back between the posts for his club team. this afternoon
"Hopefully we can win on Saturday to cap a special week," Mannus said.
"The manager (Michael O'Neill) knew that the baby was due that weekend. I told him on the previous trip.
"He said it was OK and I was to keep him updated. I spoke to him a week or two before the squad was to get together and he said 'I know what it's like, you never know what day the baby is going to come' and left it up to me.
"He didn't try to force me. I wasn't going to miss the birth for anything.
"Mason was born on the Saturday so there was no chance of me getting across and the manager was fine."
There shouldn't be any consequences for Mannus as far as his place in the Northern Ireland squad for Euro 2016 is concerned, but he isn't taking anything for granted.
"I'll be the same as anybody else and will have to wait and see for the next squad announcement," he said.
"There's another two or three friendlies before the Euros.
"I'd like to be involved obviously but there's no guarantee, especially as I wasn't involved in those last two games."
Mannus will come up against two fellow countrymen who also have one eye on the summer Euros, Billy Mckay and Paul Paton.
And he believes the duo will be key men for United this afternoon.
"I've been in loads of squads with Billy and a few with Paton," he said.
"They're both good players.
"Paton hadn't been involved for a while but when he was in the squad before I thought he did really well.
"He seems like a good lad.
"It appears that he's made a big difference to United since he has come back.
"He didn't play in the first couple of games against them this season. He was injured.
"They've definitely picked up with him in the team.
"Billy has done well against us over the years. He's a tricky player and always seems to pop up and get a goal. He scores a goal virtually every week for United.
"We'll need to keep them both quiet."
Mannus added: "We want to secure that top six place.
"We've had a couple of good results recently and it would be nice to do it by beating one of our local rivals."
Liam Craig is suspended, Steven Anderson is ruled out and Murray Davidson and Danny Swanson are doubts.