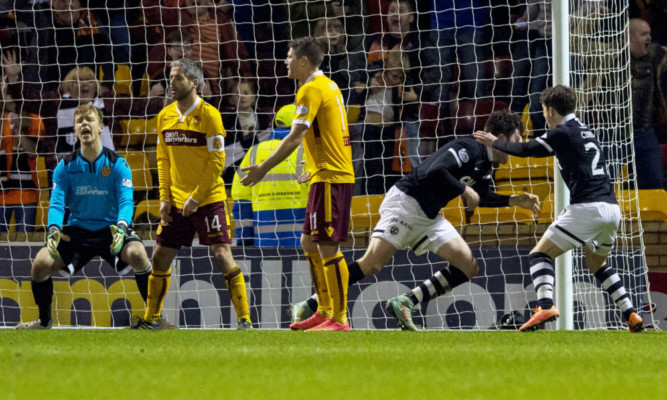 Dundee United defender John Souttar has dedicated his priceless Scottish Cup goal to all those who helped get him through his injury hell.
The young centre-half grabbed the equaliser for the Tangerines at Motherwell on Saturday and they went on to net a late winner through Keith Watson to win 2-1.
For Souttar, his 66th-minute bullet header off a corner in front of the 2,000-plus away support was a magical moment given the torment he has gone through since the summer.
Instead of basking in the glory himself, though, he was thinking of others as the ball hit the net.
"It has been a horrible start to the season for me because I did the ligaments in my ankle and the tendons ruptured in pre-season," he said.
"Sitting in the stand week in and week out was draining for me personally so it was a great moment when I scored.
"Watching the boys play is still brilliant but it is good to get back involved and winning.
"When I first sustained the injury, I lay on the turf and knew something wasn't right.
"It could have been worse, though, and when I got the x-rays and scans I knew it would just be a matter of time before I recovered.
"Looking back, it may even be a good thing in the long run for me, having to deal with it."
"Our physio Jeff Clark and one or two others said that to me.
"So I looked at Jeff when I scored because he has been massive for me when I have been out with the injury.
"He always said I would come back stronger. You never think that at the time.
"You just moan and moan about constantly being on spin bikes."
Souttar also spared a thought for team-mate Jordan Moore, who has been fighting skin cancer.
"Another thing that helped me during the injury was thinking about Jordan," he added.
"When you moan, you have to remember there are worse things. He's gone through cancer, so an injury was nothing compared to that."
Last but not least on the list was suspended striker Nadir Ciftci.
Souttar added: "I gestured to Nadir in the stand after the goal. It's just a wee thing we have going.
"He did it to me last week when he scored against Kilmarnock, and I repaid the favour."