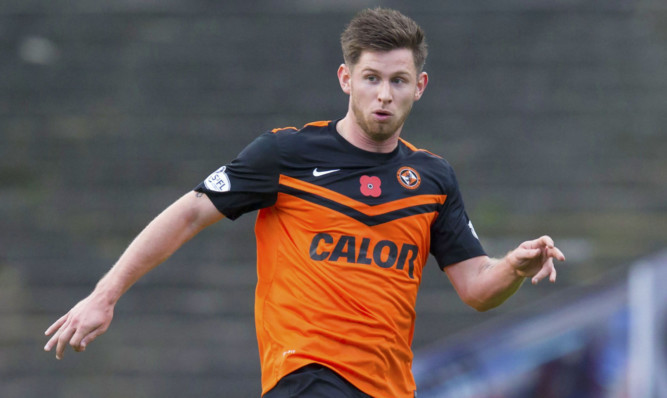 Successive managers have decided that Calum Butcher was a central defender.
However, the Dundee United player always believed that his best position was in midfield like his role model Steven Gerrard.
The Liverpool skipper was Butcher's inspiration growing up and while he will have to go some to become as good a player as Gerrard, he admits he is finally feeling at home in the middle for the Tangerines.
United boss Jackie McNamara brought him off the bench at half-time against Motherwell in the Scottish Cup at the weekend, and he helped his side overturn a one-goal deficit with his powerful performance from the engine-room of the team.
The 23-year-old former Spurs youth player said: "When you are on the bench, you are always thinking what you can do if you come on to try to change the game.
"We were 1-0 down but we came back and won 2-1 so it was obviously a positive result.
"It is always frustrating to be left out but you just have to keep positive and train well. When your chance comes, you have to take it.
"I really like playing in midfield. I have said it so many times now, but that is where I want to play.
"I like getting forward, pressing the ball and just bringing energy to the team.
"I will close people down and win the ball back. I probably won't be the player who hits a through ball or the creative pass.
"I will keep it simple and ticking over.
"I played midfield a few times when I was younger at Tottenham but I was more a centre-half.
"I always thought I should play in midfield but managers insisted that I play in defence."
When asked if there was a player he modelled himself on, Butcher said: "When I was younger, it was Steven Gerrard with the way he wins the ball back and then passes.
"There are so many good midfielders down south.
"Frank Lampard was brilliant again at the weekend but I think I look to Steven Gerrard more."
United manager Jackie McNamara has not been afraid to chop and change his starting line-up in recent weeks, utilising his squad to the full.
And Butcher admits that has kept everyone on their toes.
He said: "Everybody is playing well and I think the competition for places is bringing the best out of players.
"You want to stay in the team every week, so you have to play well.
"We have another week's training now so I just have to do well and see what happens.
"I have told the gaffer I am ready to play when he needs me."