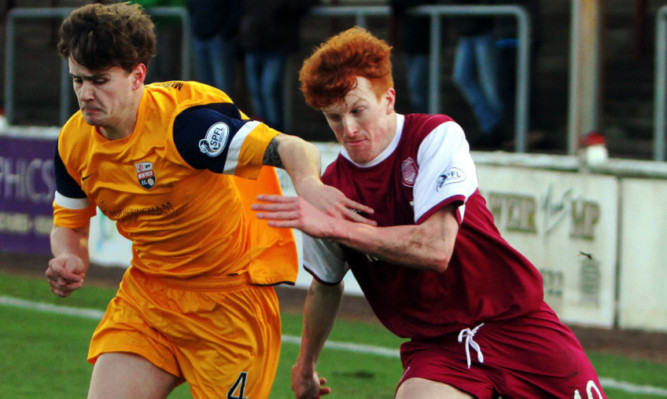 Dundee United's new signing Simon Murray has what it takes to cut it in the top flight, according to the last man to manage him in the junior ranks.
The 22-year-old was plying his trade with Tayport in the summer but, after a prolific first half of the season with League Two leaders Arbroath, the striker has put pen to paper on a two-and-a-half year contract at Tannadice after a whole host of clubs clamoured for his signature.
Tayport boss Dave Baikie only had Murray for a short while last season, but the former Arbroath, Cowdenbeath and East Fife manager is confident the forward can hold his own among the Premiership's big boys.
Baikie told Courier Sport: "It's a fantastic opportunity for him isn't it?
"I've no doubt he can cut it at the top level, if he gets into the right areas and he can get the service to put the ball in the back of the net.
"It is a big leap for players and there are only a few I can think of who have gone from the juniors through to the top league.
"But it just shows it can be done.
"Going back a few years, the one that springs to mind is Charlie Adam Senior and it was a similar story to what Simon's done.
"I played with Charlie at Downfield, he got the chance to sign for St Johnstone and then Brechin, and then Jim McLean signed him for Dundee United.
"At the end of the day, I don't think he really made it with United but it gave him the opportunity to show what he could do, go on to Partick Thistle and then have a good career in senior football.
"Simon's obviously got great ambition.
"When he came back to us, he could have settled for where he was but he had an opportunity to go to Arbroath and look at him now.
"The start to the season he's had has been great, and I've no doubt Dundee United see something in him."
United have reportedly forked out a fee of £50,000 including add-ons for Murray's services, but Baikie believes that will be a small price to pay if they can continue his progress on the field.
"I don't think it's a matter of outlay for Dundee United, they've got a track record of bringing through good young players like the ones from Queen's Park and they'll be looking to do the same with Simon," he added.
"They'll be hoping he can follow in the footsteps of young Andy Robertson at Hull, and I don't see any reason why he can't.
"It doesn't matter what level he's at, if he gets the service he's capable of scoring goals wherever he plays."
Baikie would have liked to have seen more of Murray at Tayport, although the striker only made one appearance for the Fife club after returning from a stint in Australia.
"He arrived home on the Friday morning from Australia so we took him through to Bonnyrigg for the game we had on the Saturday and he went on for the last half an hour or so," Baikie continued.
"After that he told me he had an opportunity to go and train and get experience with Arbroath, so we couldn't stand in his way.
"But it's obvious that he scores goals he has done that throughout his whole career so far.
"The season that Tayport got promoted when he was there, I can't say he single-handedly got them up but he definitely had a huge influence that season and scored goals for fun.
"It's remarkable what he's done and what's he's going on to do because he hardly kicked a ball for a year when he went over to Australia, but it's great to see him sign for a club like Dundee United.
"One thing he's not short of is confidence.
"He's obviously a very confident boy and he was a good type to have in the dressing room, so from that point of view I don't think he'll have any problems settling in.
"He knows where the goal is, he's obviously proven it in the juniors, he's proving it in League Two at the moment with Arbroath, and hopefully with full-time training and the resources they have got at United he can prove it with them as well."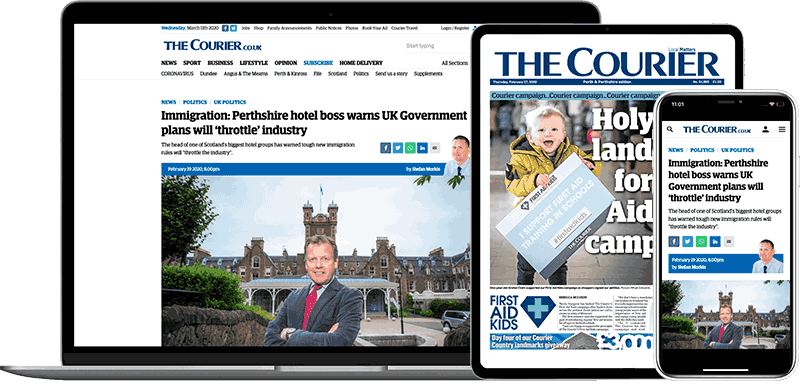 Help support quality local journalism … become a digital subscriber to The Courier
For as little as £5.99 a month you can access all of our content, including Premium articles.
Subscribe