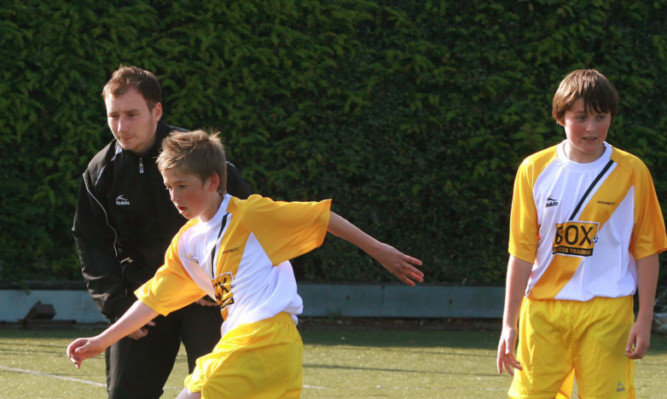 There was no shortage of big reputations in the SFA's B Licence coaching class of 2011.
Duncan Ferguson and Paul Hartley were among the would-be managers at Largs that summer, as well as several other household names.
A Dundonian in his early-20s whose playing career reached the dizzy heights of Forfar Athletic and Brechin City's youth teams would struggle to make his mark in that company, you would imagine.
Make his mark Ian Cathro most certainly did, however.
And Brechin manager Ray McKinnon should know.
"I put Ian through his B licence at Largs a few years ago," explained the former SFA employee.
"He definitely stood out because he was so young, and he hadn't taken the usual route."
That route has taken Cathro from running kids' coaching clinics in Dundee to the dug-out of the Mestalla Stadium in Valencia, where just last weekend he helped his club end Real Madrid's record-breaking 22 run of victories.
And, if you believe reports from Ibrox, it has taken him on to the shortlist to be the next manager of Rangers.
To see Cathro, untested as a manager, linked with the fallen Glasgow giants would come as a shock to many.
But not McKinnon. He is more aware than most of the coaching credentials of a 28-year-old who has been name-checked by Ryan Gauld as one of the biggest influences on his career.
"I get on great with Ian," McKinnon said.
"He was back across in Dundee recently and we caught up for a coffee.
"Ian's definitely a student of the game.
"He's very analytical and breaks everything down. The sessions he puts on are all about process.
"He'll go into great detail about patterns of games. Does a team start their play at right-back? Or how will they use their central midfielder? Things like that.
"He'll break a team down to find their weaknesses. He's not the only one doing that, obviously, but he's very good at it.
"I can remember one session that didn't quite work for him at Largs. He was trying to do too much. We had a chat afterwards and he just needed to be a bit more patient. But you could see what his ideas were."
According to Valencia manager Nuno Santo, his and Cathro's coaching relationship is a match made in heaven. Before heaven, it was a match made in Largs.
McKinnon recalled: "That course was when he would have met Nuno. They struck up a friendship then and worked in Portugal together (taking minnows Rio Ave into the Europa League) before Valencia.
"They've obviously got a big backroom staff in Spain, but Ian analyses games and designs training sessions that he and Nuno will put on.
"I'm absolutely delighted that it's working out so well for him."
The last decade has seen the rise of the football manager with no stellar playing CV to talk about. Jose Mourinho, Andre Villas-Boas and Brendan Rodgers won't have a major medal between them.
"I wouldn't like to compare him to anyone, but he's in that mould," McKinnon observed.
"Some managers get their respect from their reputation as a player but Ian will get their respect instantly on the training pitch."
McKinnon has no inside information on whether the Rangers link is genuine or misplaced speculation.
But he can see qualities in Cathro that would be attractive to whoever is calling the shots at Ibrox these days.
"I believe that Rangers need to have a structure from top to bottom. From the first team all the way through to their kids," he noted.
"Ian's the sort of person who would revel in that. He's got a lot of belief in himself.
"He's come into management from a different direction and it would be nothing short of remarkable if he ended up in a top job. But why not?
"It would be great to see someone like Ian, who has taken an unusual path, get his chance.
"He can't be far away from a manager's job. It will happen sooner rather than later with the profile he has now got.
"I know he's keen to come back here and manage at some point but he'll be learning so much just now in Spain."