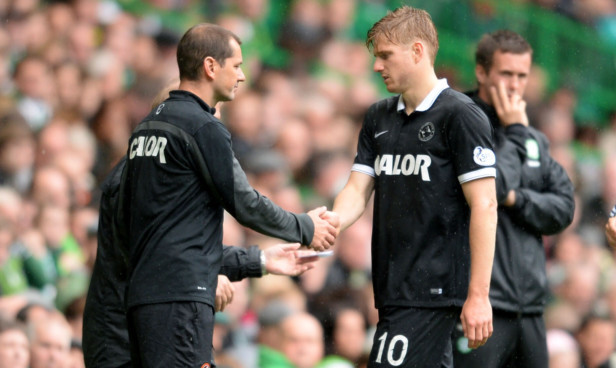 Stuart Armstrong will be missing when Dundee United attempt to ease their Parkhead pain by beating Ross County.
The Scotland under-21 captain suffered an ankle injury during the 6-1 drubbing from Celtic on Saturday and hasn't recovered in time to face the Staggies at Tannadice on Saturday.
Tangerines assistant boss Simon Donnelly all but confirmed they will be without their talented midfielder, saying: "I think Stuart is struggling to make it this weekend and we will see how he goes after that."
The good news, however, is that Ryan Dow and Jarek Fojut both trained on Thursday and should be OK to take on the Highlanders.
Donnelly added: "Dowser had been feeling his thigh a bit and it was tight but he has trained.
"Also, Jarek, who has had an achilles problem that is manageable but needs him to rest between matches, also trained.
"Both players should be fit for Saturday."
Other than the enforced Armstrong change, it seems United will give those who were so badly beaten at Celtic Park the chance to make amends against bottom-of-the-table County.
Donnelly stressed that if he were one of the United players who suffered so much last weekend he would be itching to get back out again to put that result behind him.
"I hope the players are ready to bounce back," he said. "I know if I were in their shoes I would be desperate for the next game to come along.
"Obviously we were really disappointed by the way Saturday went but the best remedy is go out and get a good result in the next game."
Donnelly feels that it was just one of those days but one he doesn't want to see repeated any time soon.
"I think it's a one-off thing because we looked pretty solid defensively in the two games before that," he said.
"In the Aberdeen game the boys at the back were dominant and we didn't look as if we were going to concede so we could put it (Celtic defeat) down as a one-off.
"On reflection, you would be happy with the start we have made with six points out of nine against the teams who finished in the top three last season.
"However, it was the manner of the defeat last week that was so, so hard for us to take. The two wins against Aberdeen and Motherwell were good results for us and we went into the Celtic game positively on the back of them.
"But it didn't work out and now it is important we bounce back.
"It's about remembering how well they did defend against Aberdeen and Motherwell but I hope the boys will know that themselves.
"We have looked at the game again and it's just individual errors that sometimes you can't legislate for.
"From the first two games looking so solid and having not conceded a goal to go to what we had at the Celtic game, I would like to think would be a blip.
"Ross County will be dangerous because just as we want to bounce back, County will be equally determined to get off the mark.
"So it's going to be a difficult game for us but if we treat it the right way and approach it properly then hopefully we will get the right result."
Meanwhile, the near-record number of season tickets sold by United fast approaching the 5,500-mark means that the George Fox Stand lower will be entry by ticket only from now on,
The great response from supporters has been welcomed by Donnelly, who said: "It's brilliant because this is an entertainment business that we are in so we try to put something on the park that's good to watch.
"The boys had a great season last year, scoring plenty of goals for the fans to come and see, and I think the backing has been excellent.
"So it's a step in the right direction for the club that season ticket sales are up.
"The more fans that are there on the Saturday the better the atmosphere and hopefully the boys will continue to put on a performance for them."