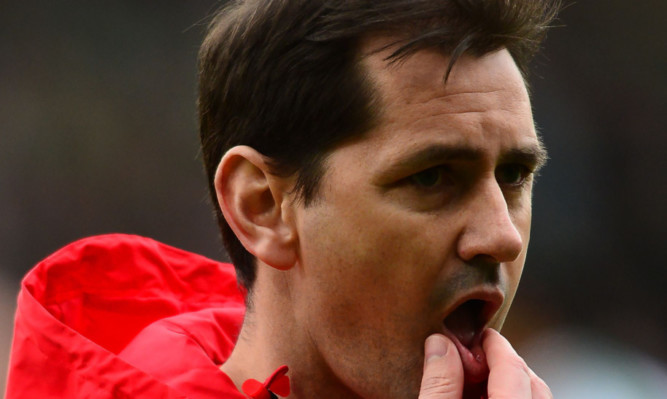 The time it took to stitch up a gash in Sean Dillon's leg could have cost Dundee United the League Cup final.
But manager Jackie McNamara has insisted that it is only with the benefit of hindsight that substituting Sean Dillon as soon as he sustained his shin injury looks like the course of action he should have taken.
As McNamara waited for Dillon to re-appear from the dressing room after his touchline clash with Virgil van Dijk, Celtic scored from a cross down the full-back's side of the pitch.
The Tangerines' boss admitted that it was a frustrating wait.
"I was about to make the change," he said. "I was going to put young Blair Spittal on and bring Ryan McGowan back into defence.
"It seemed like it was taking too long. The stitches proved costly for us.
"I was turning round every two minutes to see what was going on and trying to find a doctor or a physio. You're that far away in that technical area.
"It's hindsight. If we go and score when we had a cross everybody would have said it was a good decision not to take him off and give him more time.
"We were actually coping well at that point but they caught us on the break.
"I'd like to see the challenge that caused the damage to his leg again to see if it was a fair one. Sean's got a big gash on his shin."
McNamara had no complaints with Dillon's second half sending off when he was late with a challenge on Emilio Izaguirre.
"Sean hasn't gone in to cause damage but he's given the referee a real decision to make," he observed.
The non-penalty award when Ryan Dow went down from a barge by Scott Brown was an incident McNamara wanted to view again before making his assessment.
Meanwhile, McNamara has insisted that he will "easily" lift his players for their third clash with Celtic on Wednesday night in the Scottish Cup replay.
He is not worried about a League Cup hangover, and has pledged that United will put their Hampden disappointment behind them.
He'll have to do without both Paul Dixon and Sean Dillon through suspension, but has Nadir Ciftci available to him again.
"If we'd won we'd have had to get them back up for it again," McNamara reflected.
"We'll dust them down and see who's fit. Dixon will be out and Sean will be suspended as well.
"The lads have got an opportunity to bounce back. Hopefully we can keep 11 players on. It's imperative that we do.
"Frustration" and "disappointment" were the words McNamara used to sum up his overall post-match emotions.
"I thought a lot of things went against us," he pointed out.
"Decisions didn't go for us, and certain other things, but I can't fault the players for their effort.
"Our last pass wasn't quite there but they gave everything they had, and that's all you can ask as a manager.
"There are lots of positives they could have chucked it at 2-0 but they kept going and that's the same for the fans."
Celtic boss Ronny Deila had sympathy for the situation McNamara found himself in with Dillon.
He said: "We scored in that time but it's a tough call for the coach. You never know how long it will take. It's a very difficult situation.
"Dundee United were good. They were up for the fight and made it difficult for us in the first half.
"The first goal was vital and in the second half I thought we were the better team and deserved to win the game.
"We've gone the whole tournament without conceding a goal, which is a credit to Craig (Gordon) and the defenders."
Deila added: "It's a great feeling to win the first trophy available.
"I'm happy for the boys and proud of them. I think they did a professional job today.
"The treble is a dream. It's tough to do it, but the dream is still alive.
"On Wednesday we need to be back up for it if we're to have a chance of winning the Scottish Cup as well.
"I can assure you I want to win that as well.
"We'll celebrate this but there won't be any nightlife!"
The "nightlife" was of course a reference to Scott Brown's much publicised excursion into Edinburgh's Grassmarket in midweek.
Deila observed: "For me it isn't a big case. It looked like he was out at six o'clock in the morning but he was home at 10.30pm.
"He was drinking. He was off the day after. I have no rules about that but I tell the players they have to be fit and Scott Brown is the fittest player we have. He made it up today. He had a very good game.
"But we have a reputation to take care of and the pictures aren't anything he or me should be proud of. We have to learn from it. When you play for Celtic everyone is chasing you and you have to always know what you're doing.
"It's not a positive example to youngsters."