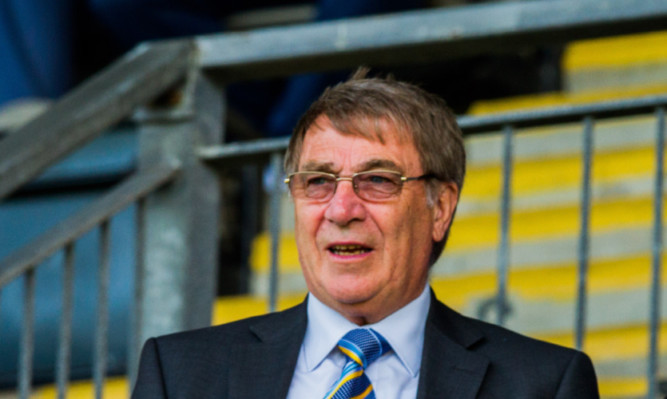 Geoff Brown lost a manager to Dundee United.
But the St Johnstone owner is confident his son Steve won't find himself in the same boat.
The Tannadice club used past loyalties to lure Paul Sturrock from McDiarmid Park back in 1998.
And now United chairman Stephen Thompson has targeted current boss Tommy Wright to succeed axed Jackie McNamara.
Perth chief Steve Brown has made it clear he's not interested in United's carrot of compensation, insisting any offer to open talks with his manager will be "flatly refused."
And discussions will continue over the international break to extend the Ulsterman's McDiarmid contract, which has 18 months left to run.
Assessing son Steve's no-nonsense move to see off unwanted interest from their Tayside neighbours, past chairman Brown has given it the stamp of approval, noting: "It looks like he is a chip off the old block.
"I said I was standing back and leaving it to the next generation four years ago and I have stuck by that. But I am still a fan and take an interest in what is going on.
"I had a great day up in Aberdeen at the weekend when we beat the league leaders 5-1."
Brown senior cautioned: "If Tommy goes to Steve and says the United job appeals to him, St Johnstone really can't keep hold of him. The club won't have an option.
"But we are hoping Tommy sees his future at a club bigger than Dundee United.
"St Johnstone accept we are a stepping stone when a manager does well. That was the case long before my time. We saw Bobby Brown and Willie Ormond move on to the Scotland job.
"And Owen Coyle, Derek McInnes and Steve Lomas have all headed for the Championship after having an impact here.
"Tommy Wright is doing very well with St Johnstone. We are in the quarter final of the League Cup against Morton so I'd like to think we have a good chance of going further.
"We are coming off the back of wins against Rangers, Dundee United and Aberdeen. You'd have got good odds on that.
"We also won the Scottish Cup under Tommy so I can understand why he is attracting interest.
"But I genuinely don't believe Dundee United would be a good move for him.
"In my opinion, his next move should be to the English Championship, where there is a lot more money and maybe even more security.
"Tommy seems to be able to get the best out of the players and they like him. It takes time to gain that sort of respect.
"But the most important relationship at any club is the one between the chairman and the manager. At the present time Tommy has got an excellent relationship with his chairman.
"It is a good relationship in the sense it isn't 'yes sir, no sir' on the part of either man. Of course there will be good days and bad days but that is the making of any relationship.
"I had different relationships with various managers and I haven't had enough lengthy one on one football chats with Tommy to know if he is similar to guys like Paul Sturrock, Owen Coyle or Derek McInnes.
"But Tommy would have to ask himself if it would be the same at Dundee United. In my opinion the answer would be no.
"Football management is a relatively short career but really no different from any other line of work.
"Money has to be a consideration but if a fan had an offer to move from one company to another which they weren't sure about and there was the potential for a bigger job if they waited they would take that into consideration."