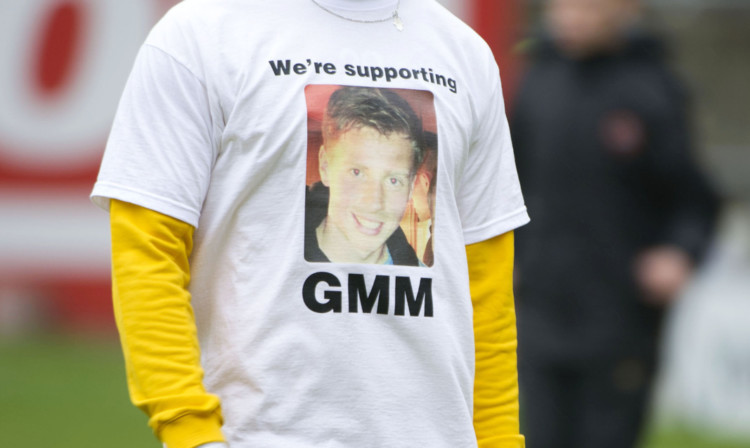 The words on their pre-match T-shirts spoke of the Dundee United players' affection for a team-mate fighting skin cancer.
But their actions on the pitch sent out an even better message to young striker Jordan Moore.
United were at their fluent and clinical best to take apart Motherwell for a second time this season, and midfielder Ryan Dow admitted that putting on a show for the 20-year-old forward watching from the stand was on their minds.
He said: "It was good to do the T-shirt idea for Jordan. You saw Nads (Nadir Ciftci) after the first goal. We had T-shirts on for young Jordan and when he scored he went and got it.
"For (Frank) Kopel too, it was fitting for both of them we won in a convincing manner. We know Jordan well. He's trained with us and was doing well on loan at Dunfermline.
https://youtube.com/watch?v=YeBavVaQcrg%3Frel%3D0
"He's a good player and more importantly he's a good lad and a strong lad so hopefully he can fight through this.
"You're shocked when someone, especially that age, gets something like that. It's not nice. But Jordan knows he's got all the lads behind him and he has all our support.
"It is a shock, especially for guys like Gauldy (Ryan Gauld) who have grown up with him in the youth team. It's your teammate.
"He came in after the game and he was happy with what we had done. We were just glad to put on a performance for him. He'd been to the last couple of games as well. He's always in and about the place."
Dow added: "As a team performance I don't think there was anyone out there who didn't perform. It's up there as one of the best.
"It's good to be involved in a display like that. It's not going to always be like that but when it is, when we go forward and we're in full flight, we're a joy to watch sometimes.
"Everything clicked this time but when it doesn't is when we need to perform as we did against St Johnstone. This week everything came off."
A team meeting at training on the back of a dispiriting defeat to their cup final opponents at McDiarmid Park certainly didn't do them any harm.
"Everyone was obviously disappointed with the way we played against St Johnstone," Dow pointed out. "It was about getting back to basics and working on things in training.
"I think it showed out there. A lot of the boys weren't happy with the way we played. We thought we'd organise a meeting and it was good.
"It was a civilised talk. We didn't get the hairdryer. A lot of boys shared stuff about what might have gone wrong in the game and we worked on stuff from there."
Dow believes the battle for starting jerseys in the cup final will drive the players on in their remaining three league matches.
He said: "Everyone feels the same. There are cup final places up for grabs and you need to perform in league games.
"Hopefully if I can keep playing like that between now and the end of the season I'll give the manager a headache. But it'll be a good headache for him to have."