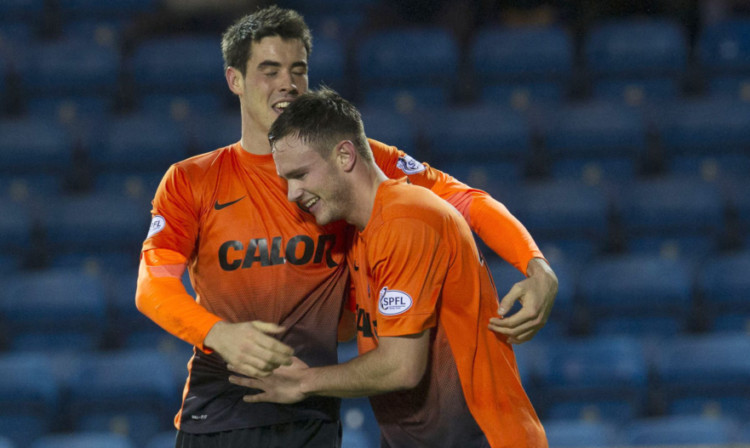 "We only score four, we only score four, Dundee United, we only score four."
I doubt the United fans were chanting that as they waved their bunnets 77 years ago but they were singing it in the rain at Rugby Park on Saturday.
These are heady days for the Tangerines, who will this weekend try to equal a club record that has stood since April 13 1936.
That was the day United smashed 12 goals past East Stirling with just one in reply in a Second Division mismatch at Tannadice.
That meant they had scored four or more goals in six straight competitive fixtures and that feat has stood the test of time only to be challenged now.
It is remarkable that a record set in the free-scoring pre-war days when losing teams were often at sixes and sevens or even 12s in Shire's case is being challenged in the modern era.
However, this is the current United side we are talking about here.
https://youtube.com/watch?v=bFBa5d7BqD8%3Frel%3D0
Saturday's result meant Jackie McNamara's team are on a run as follows: 4-0 win away to Motherwell in the Premiership; a 4-1 at home to Partick Thistle, again in the league; a 5-2 home win in the Scottish Cup over Killie; a 4-1 league success at home to Hearts; and then, last but not least, the 4-1 win in Ayrshire.
While no one at the club will be taking anything for granted, it is not being outlandish to suggest that the visit of struggling Ross County to Tannadice this weekend offers up a real chance of equalling the achievement of the gentlemen of 36.
As they belted out firstly "We want four!" and then "We only score four…" the 750 or so United fans, who braved horrendous weather and Christmas shopping pressure to give their team tremendous backing on the dreichest of days, needed no convincing that the goals will just keep on coming.
It has to be conceded that Killie did help United on their way on Saturday, with Reuben Gabriel getting two yellow cards for a couple of daft fouls on Stuart Armstrong in the space of a few minutes.
The subsequent red meant the home side had to play 67 minutes with only 10 players.
United didn't pounce immediately but instead waited patiently for their opportunity which came via comeback man Keith Watson on the hour. He raced in to tap an Armstrong cutback over the line to mark his return to the team in place of Mark Wilson.
"I was dying to get a start and to show that I deserve to be playing so to get a goal was nice," said Watson. "It has been frustrating but I have just kept my head down and worked hard in training.
"Mark came in and was doing well and the team has obviously been doing well, too, so it has been hard to get back in.
"The gaffer has said to me that there will be a few games coming up over the Christmas period and it is maybe a big ask for us all to play so many games in a short space of time.
"So what I have to do is take my chance when I get it and hopefully I can stay in."
Right-back Watson revealed he has placed a fun bet with left-back Andrew Robertson over who will score the most goals for the side this season. Robertson is on five, while Saturday's was Watson's third.
"It is brilliant that we have full-backs scoring goals," he said. "I was up a couple of goals on Andy so I thought it would be a good idea at the time.
"He has been banging them in since but I got one back so I have to try to catch him now."
Watson revealed he heard what the supporters were singing and joked that they might be disappointed if the players only get one or two in future.
"I don't know how long the run can go on for but we will be trying to keep on doing it," he said.
"The fans were saying 'We want four, we want four' and stuff and we went and got four again. But a win is a win for us. If we win 1-0 then that is brilliant as far as we are concerned.
"Maybe the fans would be disappointed though!"
Having been the provider for Watson, Armstrong grabbed United's second as he finished off a great run in from the left by nutmegging Killie keeper Craig Samson.
Armstrong had a key role in the third as well, with his shot only parried by Samson to Ryan Gauld, who was waiting to send it over the line.
Kris Boyd pulled a consolation goal back for the home team with a minute to go before United sub David Goodwillie threaded the ball through a posse of players to make it 4-1 to the visitors and keep the fans happy.
A delighted McNamara said: "The players haven't spoken about scoring four goals in games recently, they are just interested in keeping going to the final whistle.
"We are always confident of scoring, whether in the first minute or the last and even when the subs come on the are keen to get involved and grab a goal."
McNamara had no sympathy for the number of cards the opposition picked up, including Gabriel's red.
He said: "The elements made it difficult and we told the players at half-time to keep playing football and moving the ball quicker as the play was condensed in the first half.
"Obviously that led to a lot of bookings but I don't think Kilmarnock can have any complaints as we have turned their players and the referee has been spot on, including the red card as Stuart Armstrong was twice getting away from his opponent."
Kilmarnock manager Allan Johnston was frustrated with both the performance and the ordering off.
He said: "It was always going to be a hard game against a confident United but I didn't think there was much in the game before the sending off.
"The first booking was harsh and I think perhaps the referee was too keen to get his cards out. I can't complain about Gabriel's second booking but going down to 10 men is frustrating and spoils the game for everyone."
Johnston asked referee Euan Norris his opinion about the ordering off and his decision to deny his side a penalty but with no joy, as he explained: "I asked him about the double booking and also at 1-0 when the ball hit a United player's hand.
"But he said it was unintentional, but both of them were big decisions."
Once again, there were several standout performers for United but a special mention has to go to John Rankin, who directed the whole operation from the centre of the park.
The midfielder did not make a single mistake in what was a hugely impressive and influential display.