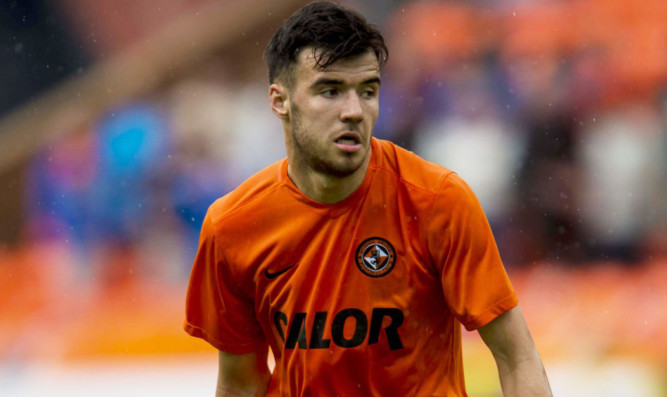 Injured Dundee United trio Darko Bodul, John Rankin and Scott Fraser all have a chance of being fit for the clash with Ross County on Saturday.
Bodul and Rankin missed the defeat to Celtic, while Fraser had to come off with a leg knock.
None have yet been able to take part in training this week, but it is hoped they will return tomorrow.
Assistant manager Simon Donnelly reported: "Darko went over his ankle and should train later in the week.
"John felt his back towards the end of last week and failed a fitness test for the game.
"He's not trained. Hopefully he'll train towards the end of the week and be ready for Saturday.
"He's just taken a dead leg. We're confident he'll be available for the weekend. Hopefully he'll be back in training later in the week as well."
The performance of Fraser against the champions was one of the positives to come out of the loss.
And Donnelly praised the 20-year-old for grasping his first team opportunity.
"Scott's been brilliant," Donnelly said.
"He was involved in the move that set up Gowser (Ryan McGowan) for his chance. It was probably our best move of the half. And his quick feet won us the penalty.
"That's what he can do. He's got quick feet going into tight areas and can open things up for us.
"The boy's still young and is learning but he's taken confidence from playing senior football last year and he hit the ground running with us in pre-season.
"His fitness is terrific and he's really impressed us.
"He's always had ability and now he's brought the other things to his game. He's a bright one for the future, and he's doing well just now."
When he signed a new deal with United through to 2018, Fraser spoke of the benefits of his spell at Airdrie in League One. Donnelly agrees.
He explained: "Sometimes kids need to go and play competitive football. The 20s can take you so far. He wasn't quite ready for our first team because there were things in his game he needed to work on.
"The ability was always there.
"The defensive side of the game and the physical side of it have been added to his game. Credit to him.
"And he's got his confidence from doing really well at Airdrie. We emphasised how big a chance this was for him this season, and he's taken it."