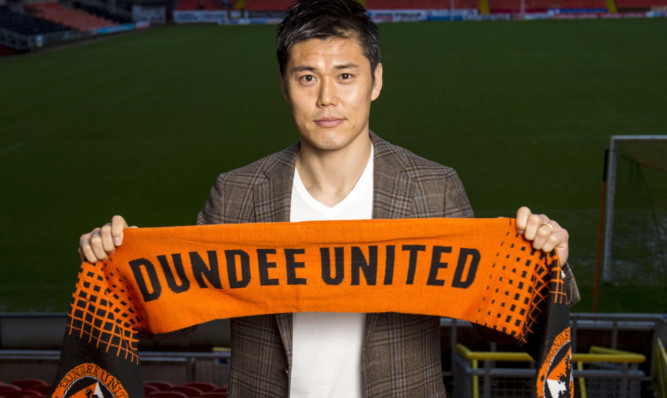 Dundee United keeper Eiji Kawashima hopes to have the same positive impact in Scottish football as his countryman Shunsuke Nakamura.
The 32-year-old Japan international, who has played in two World Cups and earned 72 caps, arrived in Tayside in November well aware of Nakamura's exploits with Celtic between 2005 and 2009, where the midfielder became hugely popular with the Hoops fans.
After making his belated debut in the 2-1 derby defeat by Dundee at the weekend, he name-checked one of Japanese football's most well-known figures and spoke of the impression his time in Scotland made back home.
"The time Nakamura used to play in Scotland, he used to play against Dundee United of course," said Kawashima, who has signed until the summer.
"Not only myself but all Japanese people know that Nakamura did really well at Celtic.
"Everyone remembers how much Nakamura did in Scotland so I will try to do my best, like he did here."
The former Lierse and Standard Liege player admits he was somewhat frustrated at having to wait so long to make his debut.
"I arrived at the beginning of November and it was so long to get a work permit," he said
"I expected it to be two weeks maximum but I had to wait for almost two months and eventually I had to do English tests as well.
"But I am happy that everything is solved and I have joined."
During that waiting period struggling United's situation deteriorated with Mixu Paatelainen's side now 11 points adrift of Kilmarnock at the bottom of the Ladbrokes Premiership.
However, Kawashima insists he at no time considered changing his mind.
"When I decide something I never change my mind," he said. "I believe I can do something for Dundee United.
"I believe clearly that we can survive.
"I also have experience in Belgium when being at the bottom of the table and then in the end we survived.
"It is hard at the moment for the players, coach and supporters but it is really important that we believe in ourselves and I hope that I can bring some positive things to the group."