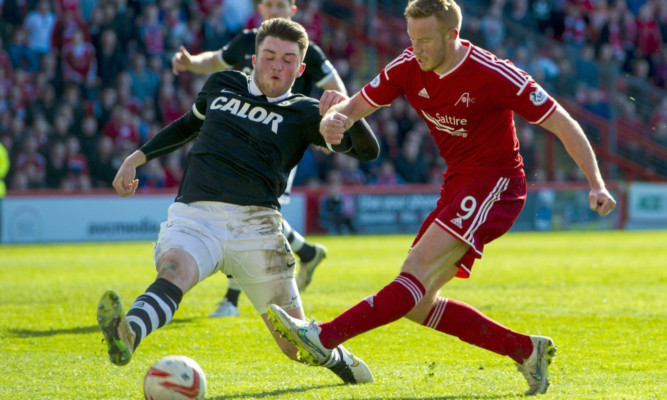 Dundee United haven't had many reasons to be cheerful of late but the emergence of John Souttar as a midfielder is definitely one.
The 18-year-old, who has played central defence all his career, looks to be ending an injury-ravaged season on a high.
He is doing so from the centre of the park instead of at the back, with displays in that position in United's last two games against Celtic and Aberdeen pointing to a permanent change of role.
Tannadice coach Simon Donnelly agrees that "Soapy" looks right at home in midfield.
"There are certain boys you just know can handle those matches and Soapy is one of them," said Donnelly.
"He is still only 18 so he has a lot to learn but he has composure and can cope with experiences like that.
"That goes back to when he played in the Scottish Cup semi-final against Celtic (a 4-3 defeat in April 2013).
"Being so young means you do get sloppiness in his play sometimes but he can see passes and when he drives forward from midfield he can take people out of the game.
"So it is a position that is there for him.
"I know he has been a centre-half all his days but above all else he is a footballer.
"So it's something we have looked at for him.
"I spoke to him as recently as yesterday about it and he likes playing in midfield.
"He can pass, link up and has vision. Maybe he needs to add a little bit of aggression to his game.
"Despite his age I don't think he has looked out of place in the middle of the park against Celtic or Aberdeen.
"He has slotted in nicely and for a lad of just 18 he has huge potential."
Souttar was joined by Robbie Muirhead, Blair Spittal and Charlie Telfer in showing up well in the first half on Sunday until the Hoops upped their game and clinched a 3-0 win.
There may have been ultimate disappointment for United but there were positives to be found in the play of the youngsters.
Donnelly stressed that youth will continue to be given a chance in what remains of this season and beyond.
With United expected to have a bit of a clearout in the summer, there could be even more opportunities for the young guns next season.
"We believe in all the young players here but they need at least 50 and probably 100 games under their belt before they can kick on," he said.
"It took guys like Johnny Russell and David Goodwillie a couple of season to become the players they did for United.
"You can coach boys and work with them as much as you want but they really start to develop when they play first-team games.
"That's when they get their self-belief and confidence.
"The confidence the current crop of young players are getting now will be a big bonus for us.
"That doesn't mean we don't want results at the same time as giving these lads experience that's not the case.
"Football is football and we need to get results.
"That's why recently the pressure has been on us and things have been said. We haven't been winning games.
"That being said, there is also a bigger picture and you need to keep developing players."