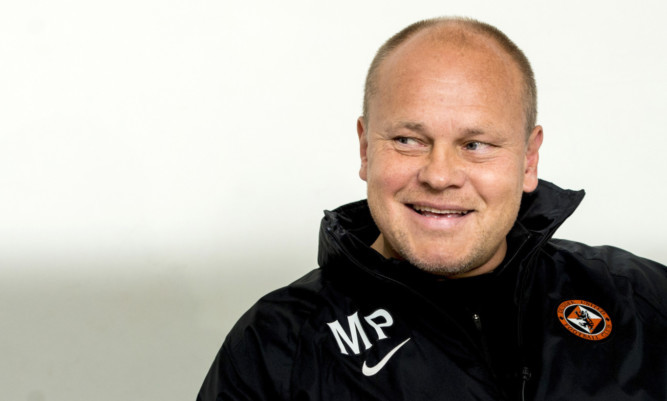 Mixu Paatelainen will be looking for a reaction from his Dundee United players after a brutal assessment of their performance against Celtic, Paul Hartley will be trying to stop his Dundee team sliding down the table, while Tommy Wright will be asking for more of the same from his in-form St Johnstone side. The Courier's sports writers, Eric Nicolson, Ian Roache and Neil Robertson analyse the burning issues surrounding our three Premiership clubs.
Q We'll start with the last game of the weekend United's defeat to Celtic. Mixu Paatelainen left nobody in any doubt about his thoughts and few would argue with the points he made. But is it a high risk strategy to be as straight-talking to the media?
Ian Roache: Definitely not. It would have been more concerning had he not said what he said. The one really positive thing for United at the moment is that the new manager is taking no nonsense. He has become immediately aware of how bad the situation is and will do all he can to get the team out of the mess they are in.
Eric Nicolson: Mixu didn't single out individuals, and he's not long in the job, so it shouldn't be an issue. It would be damning of the United players if they took the criticism the wrong way. As Mixu said, mirrors need to be looked into.
Neil Robertson: I didn't have a problem with what he said after the game on Sunday but he continued hammering home his message on Tuesday. The fear from a United point of view is that the youthful squad will retreat even further into their shells after the tongue lashing Paatelainen will be hoping it has the opposite effect and his players stand up to be counted.
Q I guess we'll see on Saturday whether it has the desired reaction against a Ross County team that is renowned for its endeavour?
IR: Mixu says the journey out of trouble will be one of small steps so anything from this game will be welcomed, with the Staggies looking like definite top-six material. County's example of strengthening an ailing squad in the January transfer window is one United need to follow so maybe there will be some interesting discussions between the respective chairmen in the boardroom.
EN: In United's predicament, every game starts to look like a tough one. Ross County had a Highland derby in midweek, so that might take the edge off them, and this is the type of match United need to get something from.
NR: The Staggies will come to Tannadice with their tails up following their League Cup win over Inverness and former United duo, County manager and his assistant Jim McIntyre and Billy Dodds have put together a decent outfit. Liam Boyce has already netted 11 times this season and another two former Tangerines, Brian Graham and Michael Gardyne, will have more than a few points to prove. All in all, a really tricky game for United to find the green shoots of recovery.
Q January seems a long way away just now. Is it a case of keeping as close as possible to the second bottom team until the transfer window cavalry arrives?
IR: Yes, but that will be extremely challenging for this United side. A five-point haul from the first 12 matches gives them a "run-rate" of fewer than 20 points over the season. Carry on like that and there would not even be a relegation battle as such because the Tangerines would be down well before the finale of the campaign.
EN: Very much so. Maintaining the current gap between themselves and second and third bottom would be an achievement given their form just now. Mind you, Mixu has stressed that there won't be as many signings as United fans would hope for.
NR: United have nine league games to negotiate before January so the onus is very much still on the players already at the club. It would be a fatal mistake to believe that everything will be all right with the addition of a few reinforcements when the window opens and solutions to the team's problems have to be found now.
Q With all that's been going on at Tannadice, the attention hasn't been on Dundee. But their recent stats aren't sensational. It's two wins in nine league games. Will things improve?
IR: The defeat to Kilmarnock on Saturday was always going to draw comparisons with the opening-day heroics at Rugby Park and it was a sore one to take. Dundee fans will be happy to be a massive 11 points clear of struggling city neighbours United but they should be looking up rather than down the table. I still feel they can finish in the top half.
EN: Dundee, like a couple of other teams will probably yo-yo between top six and bottom six over the next couple of months. If they were still in the League Cup a reasonable start to the season would be a good one.
NR: Dundee are still very much a work in progress considering all the summer additions. Boss Paul Hartley has not been helped recently by injuries to key players such as James McPake and Paul McGowan. Those two are now fit again but influential midfielder and skipper Kevin Thomson remains sidelined. However, excuses aside, the feeling remains that this squad should be doing better.
Q Hartley has a lot of attacking options and was very bold with his team selection on Saturday. What frontline would you go with in Inverness?
IR: For "very bold" you could read "too bold." There were four up front against Killie and that is almost unheard of in top-flight football nowadays. I imagine Hartley will be more conservative this time around.
EN: As long as Greg Stewart is in it they will always have a chance. I'd give Rhys Healey a go as his partner for an extended spell.
NR: Healey caught the eye against Kilmarnock and took his goal well so he deserves another chance in the Highlands. Stewart is a shoe-in but I would also go with Rory Loy meaning Kane Hemmings would be the unlucky one to miss out.
Q St Johnstone have just jumped over Dundee in the table. It's early days, but can you see them mounting a challenge for Europe again?
IR: Absolutely, yes. You are a mug if you underestimate Saints under the intelligent leadership of manager Tommy Wright.
EN: Are Hearts, Ross County or even Aberdeen much better than Saints? Certainly not. Wright is spot on when he says this is their strongest ever squad, and that will be crucial in the winter months.
NR: In the last three games I have covered Saints, they have scored an aggregate of 11 goals during wins at Ibrox, Pittodrie and Cappielow so guess what my answer is? St Johnstone are just two games away from lifting more silverware in the League Cup but Wright is an astute manager who will ensure that does not become a distraction and it looks like the only way is up in the Premiership.
Q When Aberdeen beat Celtic a few weeks ago we all thought there was a real title race. The Dons have imploded since. If they lose to Celtic on Saturday is that their challenge over?
IR: For me, the title race was over when the first whistle of the season was blown. Anyone who thought otherwise was kidding themselves on. The current Celtic team is a million miles away from even the Henrik Larsson-inspired sides of the modern era, never mind past greats. However, they are still streets ahead of anything else in Scotland.
EN: You can count me among those who now feel like a mug. I thought Aberdeen would take this deep into the last round of fixtures. Now I'm not so sure they will even finish second.
NR: Just to keep things interesting, I hoped the Dons would mount a sustained challenge but the 5-1 thrashing by St Johnstone at Pittodrie and manager Derek McInnes's frank assessment of his side's weaknesses afterwards convinced me that my optimism was misplaced. Results since seem to have confirmed that. The Dons players desperately need to make a big statement at Celtic Park otherwise the bookies can start paying out on the Hoops winning the Premiership at a canter.