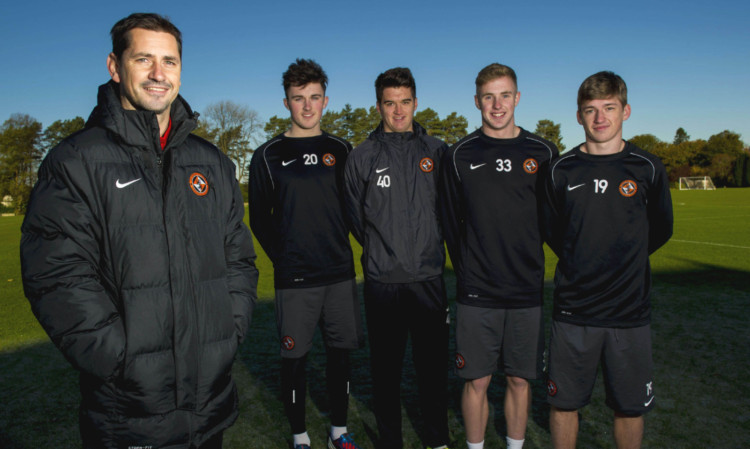 Dundee United's young stars may be shining brightly but it needed some blue-sky thinking to make that happen.
Tannadice chairman Stephen Thompson, who was delighted to see talented teenagers Ryan Gauld, John Souttar, Darren Petrie and Euan Spark sign new deals earlier this week, stressed it hasn't been luck that has landed the club with promising players.
Rather, it has taken a supreme effort to source and nurture them over many years.
Significantly, Thompson spoke of a change of mindset at Tannadice approximately seven years ago that saw the whole club make youth development a priority rather than the focus of just one or two coaches.
They are seeing spectacular results now as Gauld and Souttar, in particular, have caught the eye across Scotland and beyond.
"What has happened here with the young players coming through isn't a fluke," declared Thompson.
"A lot of work has gone into getting to where we are today with the players we have developed.
"We changed the whole youth set-up back in 2006. At one point the attitude was that we didn't have time to develop 17-year-olds because we wanted things done instantly but we've changed that outlook.
"The way of thinking has changed massively. It was about the whole club buying into it and creating a pathway into the first team for these young players.
"There is no point having the right coaches and scouts if there is no chance of them getting into the side.
"Craig Brewster had brought Stevie Campbell in to work with the youths and then Craig Levein implemented other things after that.
"I remember him (Levein) saying to me that as chairman I had to keep control of what was going on because managers will come and go. That is what has happened.
"We have had Brian Grant there for a few years now and Stevie takes them on when they become 16. Also, Graham Liveston did great work.
"Now we have kids looking at United and thinking they will get a chance if they come here. They want to come to us because they see it as a good place to learn and start your career off.
"You want to get success on the park and get the most out of the young players we have but it's a balancing act because you want to protect the value as well.
"They will go eventually, of course they will, but players have left us in the past.
"When they do go, we want to maximise what we get but we don't want to talk about guys leaving. Ryan and John want to stay here and learn more about the game working with Jackie (McNamara) and his coaching staff."
Thompson highlighted how important bringing on the youth set-up is to McNamara.
He said: "When I was looking for a new manager, a big part of it was finding someone to buy into the ideas we have about our youth system. Speaking to Jackie it was clear he did that. It was a big part of the interview.
"He had heard good things about the club and, after a few weeks of being here, he said he didn't realise how good the kids were.
"So he was even more excited about the job and has given them their chance."
Turning to the new deals, Thompson wasn't surprised by Souttar's decision to re-sign and decline the chance to move to Sunderland.
"John decided he didn't want to go south so we wanted to reward him and the others for their performances," he said.
"Was I surprised John turned Sunderland down? No, not after speaking to his dad I wasn't. His father's comment was that there is green grass here as well, which was really good to hear.
"Sunderland's facilities are really good and they treated him well when he went down there but, when it came down to it, he felt that staying here and continuing to play first-team football was the best plan for him.
"But he would have gone from playing in Scottish Cup semi-finals at Hampden to playing under-21 football.
"That was a choice he had to make. We left him to make it and we're delighted he decided to stay."
Meanwhile, the boardroom changes that will see Stephen's sister Justine become a director remain on track. Legal formalities have yet to be ironed out but the new board will be confirmed soon.
Stephen is relaxed about it, saying it will be business as usual.
"It won't change anything on a day-to-day basis," he added.
"My sister will come onto the board and my mother (Cath) is stepping down. It is continuity and there is stability at the club."