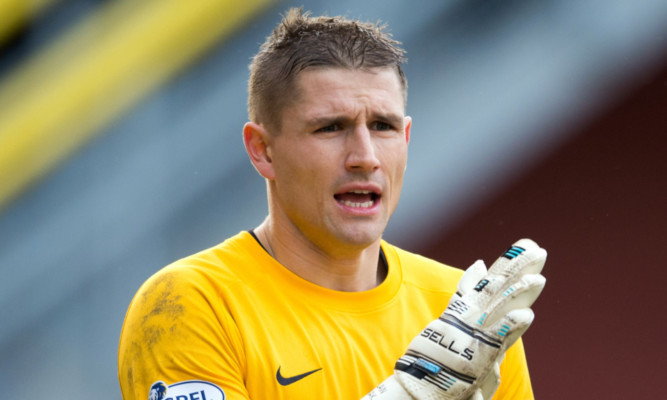 Radoslaw Cierzniak admits he's thrilled to be getting the opportunity to face Dundee again because he couldn't stand the thought of being remembered for his derby day disaster.
The Polish keeper redeemed himself with a performance right out of the top drawer in Saturday's long-overdue win over Hamilton which came just days after the pain of events at Dens Park.
Cierzniak, whose contract expires in the summer with his future still up in the air, somehow allowed Greg Stewart's tame shot to squeeze through his legs and hand city rivals Dundee a dream start on their way to a 3-1 win as they celebrated their first derby victory since November 2004.
With all the attention which surrounded the City of Discovery fixture, the Pole was understandably left feeling the strain under the glare of the live cameras but bounced back in the best possible manner to defy Accies, with three top-class saves within the space of a minute in the first-half, before Chris Erskine's 70th minute winner sealed it for Jackie McNamara's men to relieve some of the recent pressure.
Now Cierzniak is itching at the thought of an upcoming Dundee derby post-split after this win assured Paul Hartley's side of their place in the top half of the table, with the clear aim of using it to make up for last week's woes, should it turn out to be his final such experience of the fixture following three years between the sticks for the Tangerines.
He said: "Hopefully we can play another derby here (at Tannadice) That would be a big day for me, and hopefully a victory for us.
"I'm very happy that we will have another derby because Dundee are in the top-six. That would be a big day for our fans.
"I still don't know (about my future) There is still nothing concrete on the table. At the moment, I am waiting for something good.
"I know that game on Wednesday never helped me but this game today helps me. Of course, I would like to stay. We will see what happens.
"There are seven games until the end of the season. Anything can happen. I have just got to be focused for the job over the next six weeks. It's never easy the end of the season. It's always hard for everyone.
"You have to have a special mentality. So we have to switch on and try and win as many games as we can over the next six weeks and then we'll see. If we finish fourth, I think we would be happy."
Cierzniak rightly wondered whether McNamara would stick by him in light of what happened at the home of their local foes 72 hours earlier, so thanked his manager for his unswerving faith.
And he also told how the close-knit Tannadice dressing-room helped him back on his feet ahead of Saturday's victory over Hamilton which was their first in the league since way back in January 24 when they defeated Motherwell.
He said: "I'm very appreciative to the gaffer for giving me another chance. For a goalkeeper, it is very important to play again. It's not easy but I'm very happy to get the clean sheet, the first one this year I think.
"I wasn't worried (that I might not get the chance) but I was thinking maybe there was big pressure on the gaffer to change me. But he trusts me and I really appreciate that.
"I was very disappointed after Wednesday. I know how important a derby is to the fans. But what can I say? It's my job.
"Of course, I wanted the best on Wednesday and I should have saved it. But mistakes like that can happen. That's football.
"But now I'm double happy to help the team win. I didn't do anything different. I think my family helped me and so did the team.
"We've got a very good family here at this club. To be honest, nobody blamed me. This is why I think we should be finishing fourth.
"We deserve this because this situation shows to everyone that we are a very good team. We've come through a tough moment but I believe good times can be ahead now that we are back on track."
It wasn't just Cierzniak who wasn't at the races in the derby so no wonder there was a determination about the hosts to make amends at the earliest opportunity, leaving Hamilton without a win now in 13 games since Martin Canning took over from Alex Neil at the helm in early January.
Cierzniak reckons their refusal to point the finger solely at him proves they are together in their efforts to finish the season with a flurry.
He said: "I think the whole team weren't playing good enough. Of course, my mistake changed the game and the manager was upset.
"I can make mistakes like that in this game. For me, though, the manager understands.
"He didn't blame me too much because in the second half we still had a chance to score another goal and get it back to 2-2.
"I think the whole club not just the team felt that after Wednesday."
Cierzniak's heroics couldn't have been any better timed as midfielder Erskine went up the park against the run of play to slot home sweet 22-yard effort beyond Hamilton keeper Michael McGovern to end a trying 10-game winless streak.
And the 31-year-old had a strong feeling United were destined for the three points after successfully shutting out the Lanarkshire side.
He said: "I think it was a very important three points especially after the disappointment of the derby on Wednesday. It was especially disappointing for me.
"But I think this is a very positive result and we still have a chance for the top four.
"Very often during the game there were tough moments for the team but that's my job.
"I knew during the game that if we keep a clean sheet we can score something.
"It's always like this during games. If you don't score quick you always lose, or the other side is that if you don't lose a goal you will score.
"After those three saves, I was sure we would win this game."