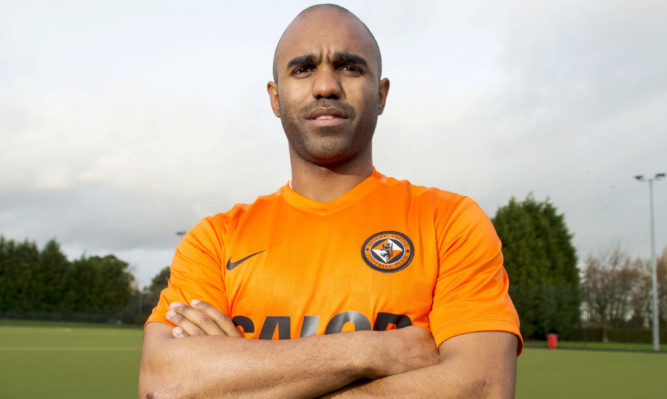 Strictly speaking, Florent Sinama Pongolle hopes to be dancing up the Premiership with Dundee United.
The French striker is in line to make his first appearance for the Tangerines today in their crucial clash against Kilmarnock at Rugby Park.
Sinama Pongolle hit the floor at his former club Liverpool for a remarkable initiation ceremony that saw him breakdance, do somersaults and moonwalk in front of stunned colleagues.
The United players have yet to be treated to their new teammate's disco delights but they won't have too long to wait.
Sinama Pongolle said: "I have not done an initiation here yet but a few of the United players have had a laugh about what they read I did at Liverpool.
"I will make something happen when we organise our welcome.
"It is not the right moment to do it just now.
"I will plan something with Guy Demel and Eiji Kawashima when we are all together so we can maybe do something then.
"It might be like a cabaret show!
"But right now is not the right time – it can wait until later. "
What needs to happen sooner rather than later is for United to win a match.
They are seven points adrift of second-bottom side Motherwell despite having played some decent stuff against Hamilton last Saturday.
Sinama Pongolle added: "The last result was not the best but personally I feel great.
"I have been working well during the week and am ready to show what I can do.
"I am ready to play in a match if the manager needs me.
"Physically I'm good but obviously match fitness is different so I just want to get started now and building towards being fully fit.
"Can I play (against Killie)? Of course, because even before I came here I had a chance to play at Le Havre.
"I was training with them and could have played in a friendly game for them so I can play if the manager needs me.
"My target is to be an important player and do the things the coach needs me to do for the team.
"If the team keeps producing chances like they did in the last game then we will score goals.
"Once that happens the confidence will come back more and more and then the three points will follow.
"I watched the last two matches and the performances were good. I don't think anyone would say that they weren't.
"Every year in football a team will struggle and won't be free and full of confidence.
"But we are working hard on that and I believe that as soon as we get three points we will be on our way."
Sinama Pongolle has experience of what it takes to beat relegation thanks to a loan spell at Real Zaragoza in Spain.
That survival battle had a positive outcome for the striker and he believes United can save themselves.
"I was in a similar position at Zaragoza," he said.
"For economic reasons, the team were down in the second division with the third highest wage bill in Spain behind Real Madrid and Barcelona.
"We had to fight against relegation the next season.
"We stayed up in the end and I believe that we will do the same at Dundee United.
"I don't believe this team will get relegated.
"There is great motivation here to get the club away from the bottom of the league.
"The performances are improving. I always look at positive things rather than negative ones.
"Everyone needs to believe in us – the club, the fans, the players and the staff. We all need to be together."
Tannadice head coach Mixu Paatelainen, who will also have Chris Erskine available after injury, has high hopes for Sinama Pongolle.
The manager said: "He is a technically-gifted player, a good passer of the ball and his awareness is excellent.
"He is also experienced and will give us steadiness and quality on the ball.
"He will be an important figure for the team and can help us."
Paatelainen confirmed goalkeeper Eiji Kawashima is in Japan after his wife had a baby but he will return next week when, hopefully, his work permit is rubber-stamped.
"Eiji has gone home but he has to go out of the country at some point anyway as part of the work permit process so this is the perfect time for him," said the Finn.
"It is important that he is there with his family and then when everything is OK he will come back.
"He has been with us for five weeks and that says a lot for his commitment to the club."