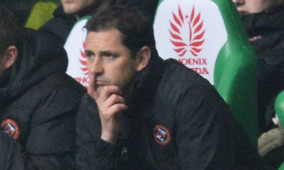 Jackie McNamara has claimed that Celtic manager Ronny Deila has openly criticised Dundee United players because he is under enormous pressure to deliver a domestic treble.
The Hoops boss aimed a vocal volley at Aidan Connolly following the first of three recent meetings between the sides at Tannadice on March 8, claiming the youngster dived to win a penalty.
Then, following Wednesday night's Scottish Cup quarter-final replay at Celtic Park, he hit out at Ryan McGowan after the United player had been dismissed for a tackle on Liam Henderson late in the game.
United have appealed against the Australian's red card and McNamara also dismissed Deila's suggestion that the challenge was one which, "could have injured him (Henderson) for life".
The United boss said: "Everything has just kind of boiled up over the last two weeks, but I understand the pressure Ronny Deila is under.
"He's under pressure to succeed and win a domestic treble because of the money they've spent, the resources they have.
"Celtic are under enormous pressure because of the Champions League and I understand that.
"They should be winning domestic trebles because they have spent a lot of money and nobody is close to them.
"With the resources Celtic have they should be winning all three trophies.
"His (Deila's) words are not accurate or helpful, speaking about players like Aidan and now Ryan.
"But I understand he's under pressure and that has been reflected in his comments.
"The pressure is enormous on the guy to win a treble.
"For me there hasn't been any real dangerous tackles, we need to get a bit of perspective here.
"But that's down to pressure.
"We're all under pressure but using words like 'career-threatening' and singling out players, I don't think the Celtic manager should be doing that.
"He'll do things his own way, but for me he's under pressure and sometimes these things boil over."
McNamara also insisted that McGowan's challenge was simply a committed tackle in sharp contrast to the disgraceful one that ended John Kennedy's career.
McNamara's former Celtic team-mate sustained his serious knee injury during a Scotland game against Romania following a shocking challenge by Ionel Ganea.
Kennedy eventually had to retire because of the injury and is now part of Deila's back-room team.
McNamara said: "Ronny has a guy on his coaching staff whose career was ended by a challenge.
"The one on John Kennedy was a career-ending challenge, it was an absolutely shocking challenge.
"So to say that about Ryan's challenge isn't right. His was committed he put everything behind it but he's not hurt the lad.
"The lad has played on.
"We have never come out and criticised anything in the last two weeks, but I understand the pressure he's under.
"The biggest injury over the last three games was the one on Sean Dillon but that was an accident and that's football.
"Sean has a lot of stitches in his shin now because of it.
"You can't say it was meant or a bad challenge, it just happened. That's football."
Connolly was roundly booed by the Celtic support when he came on as a second-half substitute during Wednesday night's game, a reaction McNamara insists was provoked by Deila's "diving" accusation.
He added: "It started with the comments about Aidan diving and it has just escalated from there with the challenges and the sendings-off.
"We had a young kid coming onto the pitch at 19 years old and he was booed on because of the comments from the first game.
"That's an opinion and now the young lad has a tag, he's getting booed by fans on the back of it.
"He's only 19 years old.
"My relationship with Ronny has been fine. After the first game he came into my office.
"After the final we went our separate ways unfortunately he left with the trophy.
"And the other night we had a chat after the game and nothing was talked about.
"I have no problems with him. I just don't think he should be saying things like.
"We are appealing Ryan's red card because, for me, it should never have been a sending off.
"We have to appeal it because I don't think it's a bad challenge at all."
With everything else that has gone on, it is all too easy to forget that United travel to face Celtic again this afternoon on league business with McNamara insisting his team still has plenty to play for.
He said: "Three games in six days is not ideal and things would be easier for us if we'd won one of the matches.
"But we have to stick together and make sure we don't give any poor goals away.
"It's important we don't give away goals.
"There's plenty still to play for this season. We've done well to get to a cup final and playing them away in a Scottish Cup replay is always tough.
"We have not beaten Celtic in Glasgow for 23 years, that's a long time but it's something we hope to change.
"We have a few out, Callum Morris, Mario Bilate and Sean Dillon are all missing.
"Callum is feeling his thigh again so we won't risk him.
"There are one or two feeling little effects of so many games so we've just had a light training session."