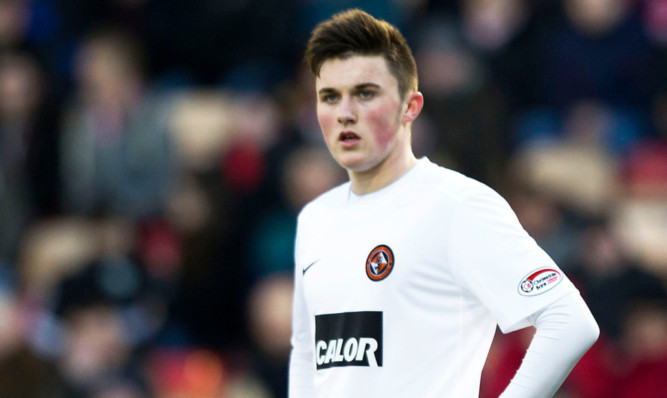 DUNDEE UNITED central defender Gavin Gunning has revealed that John Souttar did not need much in the way of mentoring as he became the youngest player ever to play for the club.
Souttar, at the tender age of 16 years and 100 days, beat the record held by Ian Mitchell for over 50 years when he made his debut for the Tangerines against Aberdeen at Pittodrie on Wednesday.
With his usual position being in the centre of the backline, Souttar moved across to slot in at right-back.
If he needed advice he just had to look to his left to find more experienced heads in the form of Gunning and skipper Jon Daly.
While Souttar got off to a nervy start, he quickly settled and coped well with the threat of Jonny Hayes and Ryan Fraser, with Dons boss Craig Brown paying him the compliment of switching his wide players during the match, which finished 2-2.
"John did OK, although obviously he was a bit nervous to start off," said Gunning. "That's what you would expect from a young boy.
"We know the quality he has and he is one of the best young prospects at the club.
"Both Jon Daly and I know he is a good player. We did have a word or two during the game but when he got going in the right direction we knew he would do well and that's how it turned out."
United's overall play at Pittodrie was much better than it had been in previous games, even though they lost another couple of goals. They moved the ball about well and were dangerous going forward.
Gunning, who scored United's first against the Dons on Wednesday, believes that if they can finally close the door in defence then they can kick on in the second half of the season, just as they have done in previous years.
"We are still conceding too many goals but against Aberdeen at least they weren't down to individual errors," said the Irishman. "So it was a bit better defensively than it has been.
"We are playing all right overall but that's no use if you are not winning games. You see the league table and we are not where we think we should be. Hopefully we can rectify that in the new year.
"I actually think we are playing better than we were last year at this time, although we were doing better (in the table) than we are now.
"Hopefully we can go on a run like we did before and get right up where we believe we should be."
Gunning, meanwhile, felt he was denied a second goal by referee Alan Muir, claiming he was pushed by Gavin Rae when he dived to head the ball into the net in the second half.
"I should have had what was a stonewall penalty," he said. "I was about to score again and the boy pulled me back and the ball went by the post.
"The referee, I don't think, had the bottle to give it."
iroache@thecourier.co.uk