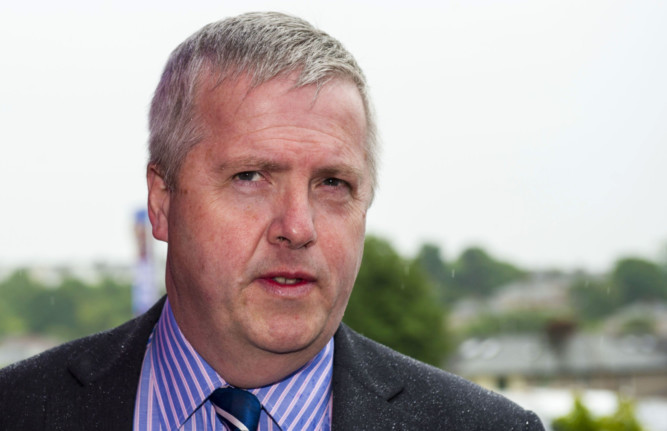 Raith Rovers chief executive Eric Drysdale confirmed yesterday that the board of directors at Stark's Park have held talks with manager Grant Murray about the team's recent poor run of results.
And Courier Sport understands that Murray was left in no doubt that results must improve over the coming weeks or else.
Despite winning the Ramsdens Cup in April and reaching the last 16 of this season's Scottish Cup, Rovers have struggled in this season's Championship after a seemingly promising start and have won just one of their last 10 league games.
The Kirkcaldy club have also had a tendency to suffer heavy defeats this term, notably losing 4-0 to Hearts and Rangers at home before a 6-1 mauling at Ibrox in October, and it was a 5-1 loss to Livingston at Stark's Park which prompted Drysdale and the board to issue Murray with a stark warning.
"Results must improve," Drysdale said.
"We did meet with Grant following the Livi match, which was a very disappointing result against the team that was bottom of the league.
"We did explain that we hoped to see improved performances and results over the coming games.
"No specific targets were set but the message was clear enough that we were looking to see an improvement.
"I think we did see an improvement at Dumbarton on Saturday, even though we ended up losing the game to a controversial penalty in the last few minutes, and the performance was considerably better than it was against Livi.
"So we hope to see further improved performances in the matches coming up over the festive period."
That festive period begins tomorrow at home to Hibernian, although there have been murmurings among some supporters that some sort of protest could be planned.
Understandably, Drysdale is keen to see the fans get behind the manager and the team to help turn things around.
"I speak as a Raith Rovers supporter of many decades, I'm entitled to voice my own opinion, and I don't like the way some fans have reacted to some of the things on the pitch," he continued.
"There have been occasions where some players have been booed in the first few minutes of games and that's totally counter productive.
"We are all Raith Rovers supporters and we want the team to do well.
"Of course I appreciate and understand that when performances have dipped it can be difficult to show enthusiastic support and people are entitled to their opinions.
"But all I'd say is please don't boo the team as soon as they put a foot wrong because it does nothing for morale.
"The board are disappointed with results, we're doing what we can to help improve performances and we're continuing to do what we can to support the manager and the team.
"All we're asking for is that the fans do the same."
Rovers were due to hold a board meeting last night to elect a new chairman to succeed Turnbull Hutton, although the outcome of that was not known as we went to press.