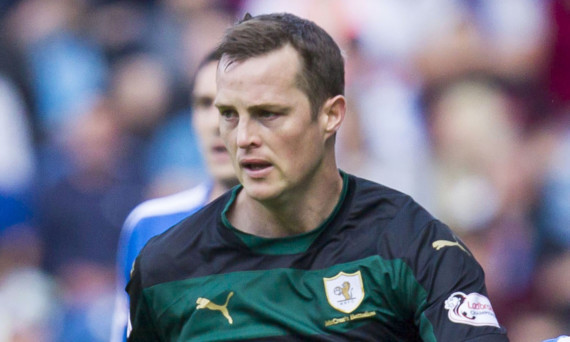 Jon Daly insists that he intends to finish his playing career on a high at Raith Rovers before hanging up his boots and becoming the Under-20s coach at Hearts.
The former Dundee United and Rangers striker will leave Stark's Park when his contract ends in January to take up his new role at Tynecastle.
The big Irishman admits he is not sure how he will feel when his playing career is finally at an end but what he is certain about is that he wants to contribute as much as possible for Raith and manager Ray McKinnon before he heads for pastures new.
Daly said: "As far as I know I'll be hanging up the boots and just going in as a coach.
"The next two months with Raith is probably going to be my last time playing, so they're games I want to do well in to try and finish on a high note.
"I was delighted to get the opportunity to come into Raith after speaking to the manager here so I want to help him and the lads the best I can.
"We've had a really good start to the season and we just have to try to maintain that. I would like to leave Raith in a position where they're cemented in the play-offs and they can go and kick on for the rest of the season.
He added: "I could possibly have said I'll play for another two years and knocked it (Hearts job) back, but roles like this don't come around too often.
"With the injuries I've had in my career, it feels like the right time to do it.
"It's an opportunity that might not come around again.
"I'm very grateful and honoured that I've been considered for the role.
"In terms of playing, I'm sure I'll have days when I miss it, but then there will be days when I wake up fresher than I do normally after games. There are days when you don't miss it as much.
"It's a hard question for me to answer because I don't know until I stop playing how I'm going to feel about it.
"But it's an opportunity I'm very grateful for and I'm looking forward to getting involved in it."
Daly admits it will be a big learning curve for him when he moves to Hearts but he will have plenty of people to turn to when he needs advice such as the club's director of football Craig Levein and head coach Robbie Neilson.
He added: "Craig contacted me and asked if I could have a chat with them. He spoke to me about the role and how it was a fantastic opportunity for me to take the next step in my career.
"I know Craig from my time at United and he was always a manager I enjoyed playing under.
"He has vast experience so it will be good to have someone like Craig as a sounding board if I need any advice on anything. And Robbie as well, who has obviously done a fantastic job there.
"I've got some good coaches and managers I can speak to if I need any advice.
"I'll probably speak to Peter Houston and I had a text from Dave Bowman, who is currently the under-20s manager at Dundee United, so I'll maybe meet up with him for a chat and just see how he goes about things and get an insight into that.
"I've got my UEFA B Licence and the plan was to go on the A course next summer. I'll speak to Craig and ask his advice on what he recommends.
"But my plan is to go and do that and then take it from there."