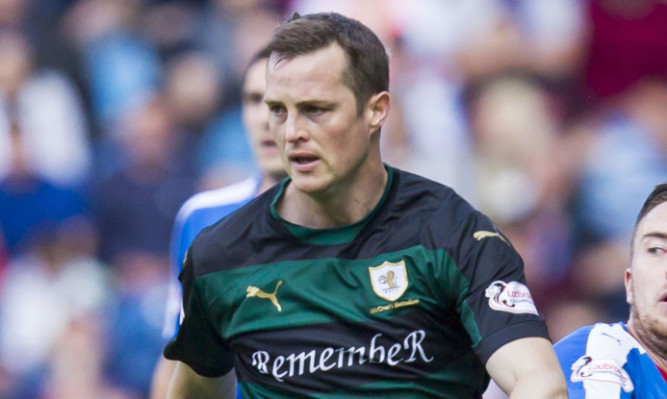 Jon Daly admits that because of the serious injuries he has suffered throughout his career, he has always played each game as if it was his last.
Now, with the clock ticking down until he does hang up his boots for good to become youth coach at Hearts next month, he is fully aware that each match he plays for Raith Rovers has added significance.UPDATE:MATCH POSTPONED DUE TO WEATHERWhich is why, when he lines up against the side he left last summer, Rangers, at Stark's Park today, he is determined that his final game against the Glasgow outfit will be one to remember.
Daly said: "I am obviously aware that I am leaving in January but I think with the injuries I have had over the years, I have always tried to play each game as if it could be my last as you just never know.
"You can't tell as a player when you might have a bad injury that could stop you playing.
"I think the fact I have a set date in my head for finishing is probably not the worst thing.
"It gives me the games where I can go out to try to do everything to help the club and the team progress in the league and the cup.
"You try to enjoy the games as much as you can I think I have always attempted to do that.
"I have come back from three really bad injuries and probably after the second one, I tried to enjoy games more and to play each one as if it was my last as you just never know."
He added: "It would be nice to beat Rangers.
"It would be great to do that. We know it will be a tough task as they are an excellent side with some really good players that we need to stop.
"But we have some good players in our side and if we can stop them first and foremost, give ourselves a foothold in the game, then we can go and hurt them.
"We know it is going to be difficult but we need to have that confidence and belief that we can go and do it."
The last time Raith faced Rangers at Ibrox in September, they were on the wrong end of a 5-0 scoreline.
They will be up against it again today as manager Ray McKinnon's squad has been ravaged by injury.
However, Daly insists Rovers can upset the odds.
The former Dundee United favourite said: "I am really looking forward to the game.
"They are always big games when you play Rangers.
"We had a poor result at Ibrox when we played them earlier in the season.
"So we will be looking to put in a better performance this time round and hopefully give them a better match.
"I still have a lot of friends there and I know a lot of the staff.
"I will speak to them beforehand but once you get on to the park, you just have to concentrate on doing your job and trying to get the points for your team.
"I enjoyed my time there but I am also enjoying being at Raith at the moment.
"So I am just focused on the game and trying to get the three points for Rovers."