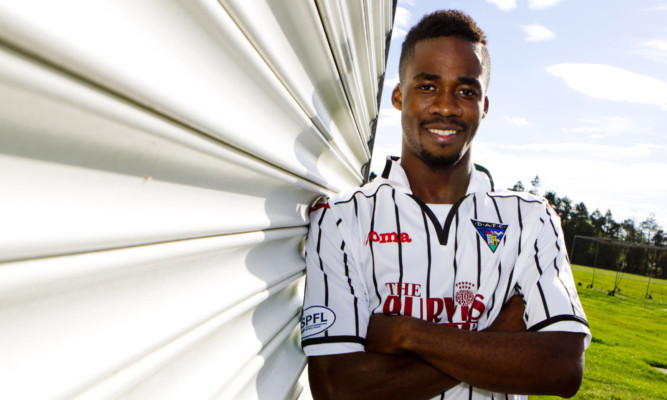 Paris St Germain winger Sorel Chemin has been handed a short-term contract with Dunfermline Athletic.
The 20-year-old has spent the last fortnight on trial at East End Park and has shown enough to warrant manager Jim Jefferies taking a chance on him.
"We haven't got any money to sign players," Jefferies said.
"So there are three avenues open to us. One is our own youth although you are not always going to get everybody coming through.
"We have done fantastically well to get the boys we have and we have got more talent coming through. The other option is looking down the lower leagues and picking up one or two young players there.
"We've been successful in that as well. And the third way is for a manager with so many years of being in the game, you build up a network of contacts and people you know.
"I know who to trust, I know where there is a track record of putting boys forward. If they're not good I do not tend to listen too much.
"I have a few contacts who have put up good players. Some players don't last a day, another lasted a week but this boy has been here a couple of weeks so he must have something.
"It is the way if you cannot afford the ready-made article. This boy comes into that category.
"He was recommended to us, we have had a look at him and I think he has something different. Technically he is very good, very quick and has a terrific left foot."
Cameroon-born Sorel has signed initially until the end of November.
The deal is subject to international clearance going through.
Jefferies added: "We got a tip off about this player and he actually played in a game that I got watched.
"We decided to bring him in for a few days and Neil (McCann), John (Potter) and I saw something in him. The plan was to take him for a few days but we asked him to stay for a week.
"The crazy thing is that because of the rules, as a foreign player you have to sign him before you can test him out in games.
"He played in a closed-doors game against Motherwell and did fine. I think sometimes you see something in a player but you want to be totally convinced.
"He has done everything alright in training, he has a good attitude and he's a good lad.
"He has been at Paris St Germain for a number of years and that is no mean feat to be signed for a team like that as a kid.
Sorel, who could play for the under-20s against Kilmarnock on Tuesday, said: "It is like a family here. I like Dunfermline.
"The football is different here, it is more physical here while in France it is more technical. I played at Paris St Germain for nine years and it was a family. I played in the reserve team.
"I want to play for Dunfermline. I want many people to see me play. I think the manager is very good and is very hard because he wants to win."