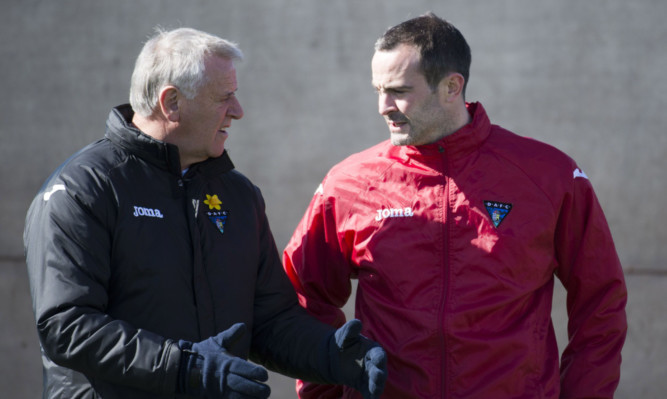 New Dunfermline boss John Potter is preparing himself for a baptism of fire against Stranraer tomorrow but he wouldn't have it any other way.
The smoke had barely cleared from the candles on his 35th birthday cake this week when Potter was given the call to take over following Jim Jefferies' departure, and walking out for the first time as boss of his hometown club will surely be a proud moment.
With promotion the Pars' key aim this season to avoid the possibility of part-time football, to say Potter has been thrown in at the deep end at Dunfermline is maybe an understatement.
But the new man at the helm is determined to get off to a winning start.
"It was a hectic couple of days on Monday and Tuesday, but maybe when I sat down on Wednesday night it finally started to sink in," he commented.
"But it's been great.
"I've loved the first wee bit of it and it might be a wee bit nerve-wracking on Saturday going out as manager but I'm looking forward to it.
"It's a home game against the in form team in our division.
"Stranraer are doing really well, they have not been beaten in a while so it will be a really difficult game.
"They'll come here and want to do what they did to us in the Scottish Cup last week but it's up to us to stand up and show what we're all about.
"We've almost got a fully fit squad, training has been great the last couple of days and we' ve got an idea of a team in our head.
"It's now up to us to put that into practice.
"It's a great game for us and hopefully there will be a good crowd coming up to Christmas as well.
"The players know the recent form has not been good enough and they've sensed the fans' frustration at times, but I told them that we are the only ones who can change it.
"If we go out there and give it 100%, give everything we've got and start scoring some goals we'll get the fans on our side quite quickly.
"We've got to start Saturday game right and give the fans something to cheer about.
Making the step up from Under 20s coach to first team boss will be a difficult transition for Potter, while the players must also get used to calling the man who was a team-mate just a few days ago the "gaffer".
"There have been a few fines flying about already, but the boys are getting there," Potter joked.
"Seriously though, the players have been great and I had a wee chat with them on Wednesday morning about what's happened, where I am, what I am wanting from them, what my ideas are.
"And it'll be different from what it was.
"Although I worked with Jim, I was basically the Under 20s manager so I've got different opinions on things on players, on training, days off, how we train, where we train.
"That will be put into place the next few weeks and already a few things have changed.
"The players have been great, they've been quite receptive and they've enjoyed it, but at the end of the day it's about getting results and hopefully we can do that."
Potter has been handed the reins until at least the end of the season and knows full well that he has been given a gilt-edged chance to hold on to the job beyond that if results are right.
But the new Pars boss stressed: "I'm not thinking longer-term at the moment.
"To be honest I just thought: "I've got the job, it's mine."
"I know it's an old clich but I genuinely have to take it day-by-day, week-by-week.
"Obviously in football you've got to try and have a wee plan in place and look ahead, scouting for players and that sort of thing.
"But my aim is to concentrate on the immediate future and see where it takes us.
"Of course I want to prove I'm the right man for the job.
"I've got the chance and I've said to the players: 'If you've got the jersey, keep it.'
"They've got to work hard and do the right things to do that, and I suppose I'm the same.
"I know it's a results-based business.
"Football management is and it's my choice to get into it.
"I could have stayed as a youth manager for as long as I wanted probably, but I didn't want that.
"I wanted this and now I've got that."
One thing's for sure though, don't expect Potter to be a suit-and-tie type of manager.
"It'll be a tracksuit probably it certainly won't be a strip anyway, I've been warned off that," he concluded.