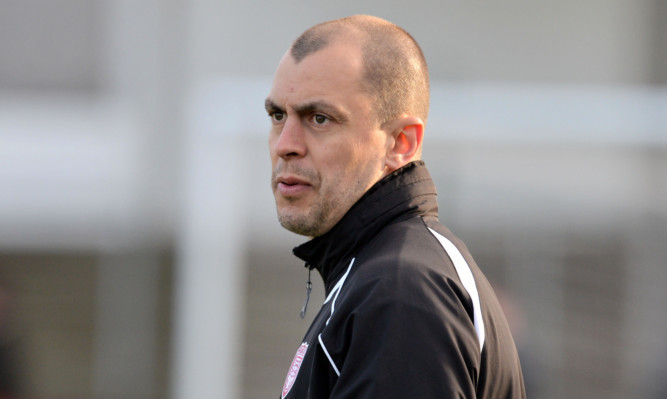 Lichties boss Todd Lumsden desperately wants his team to maintain the standards his team set at Central Park in this William Hill Scottish Cup third round tie.
Arbroath more than matched the Ladbrokes League One side, and had it not been for some fine stops by Cowdenbeath's 18 year-old 'keeper, Jamie Sneddon, they could have been in the hat for the next round.
He said: "I felt we played very well in difficult conditions and certainly had the better of the chances and Bobby Linn must be wondering how he did not get the ball past their 'keeper.
"But we will have to repeat that form in the second leg and in the league games to follow, for the lads showed the sort of quality that I know they are capable of and now must seek consistency.
"We need to get league points in the board in League Two to improve our position in the table and if we can repeat that form we will win a lot of games."
The teams will now have to do it all again at Gayfield this Saturday after Cowden fought back from being a goal down.
The match was played in terrible weather conditions with a howling gale and torrential showers of rain making life very difficult for both sides.
But Arbroath forced four excellent stops from Sneddon in the first 65 minutes, and had other chances, with midfielder Bobby Linn finding himself in one-on-one situations three times with the 'keeper and failing to score.
In the first period, against the wind, Arbroath had the better chances and their skipper Mark Whatley came close as did Linn and Darren Ramsay.
Whatley then fired in a low 20 yarder to put the Lichties ahead with 56 minutes gone and this seemed to wake the Fifers up and they at last gave Allan Fleming in the Arbroath goal problems.
Home player/boss Colin Nish sent on Chris Kane and Craig Johnston with 25 minutes left and the latter got the vital goal for his team when his glancing header gave Fleming no chance with 17 minutes to go.
In an exciting finale Kyle Miller hit the Lichties bar with a left foot shot while Linn twice went clean through but could not beat Sneddon.
Nish was unhappy with the performance of his team: "People will point to the fact that we saw a lot of the ball in the closing stages, scored and hit the bar as well as missing a couple of chances, but that does not by any means tell the whole story.
"For the first hour we were pretty poor and did not really create any clear chances and it was then that Jamie came to our rescue with several very important saves.
"To be honest we were much better against the conditions and to get a second bite at the cherry is something to be pleased about.
"But we must make sure that we play a lot better over the whole 90 minutes to get into the next round."