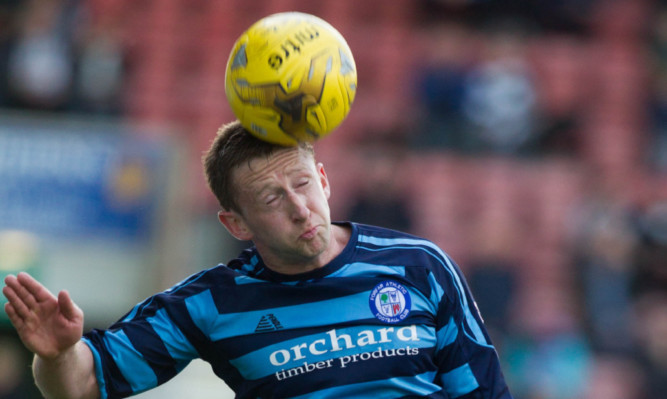 Loons midfielder Bryan Hodge insists Forfar are after a play-off place at worst despite a draw that extended their winless run to nine games.
Hodge went close with a couple of good efforts at Stair Park, with a late 25-yard shot sailing just wide.
The 28-year-old former Blackburn and Partick player believes there are encouraging signs that the slump may be coming to an end.
Hodge said: "I felt both shots I had were going in, but when you are on a bad run luck tends to go against you.
"The first one, their keeper made a good save.
"The second, the ball swerved at the last moment and missed.
"A 0-0 draw away to Stranraer is a good result, but because we are looking for this elusive win it's slightly different," he added.
Injuries have conspired against Forfar but Hodge believes the return of key players can provide a timely boost.
He said: "At one stage we had four central defenders out injured at the same time so it's made it tough.
"It's just about getting that next win as we are capable of going on a couple of good runs between now and May.
"Our minimum target is the play-offs, and with our squad we are capable of that.
"Apart from Ayr and Dunfermline at the top it's all to play for, with only a few points separating us from third and fourth."
Meanwhile, Forfar boss Dick Campbell insisted that he is more concerned with team performance than results and said: "What I am looking for is performances from the team as that is more important at the moment than wins.
"This was a good shut-out and we made some great chances, with three really good efforts in the first half.
"I have never seen a league title won before Christmas and there is a long way to go.
"I am happier after this performance as it showed Forfar can compete with anyone in this league.
"Thankfully we are getting players back from injury, although Michael Travis and Michael Dunlop are still out."
Stranraer boss Brian Reid said: "I am pleased with the effort in what was a hard-fought draw, but we had a nervousness in front of goal."
In a game of few genuine chances an unmarked Derek Young headed over from a good position after Thomas O'Brien nodded on Danny Denholm's cross.
At the other end, Paul Cairney missed from a few yards after a pinpoint cross from Scott Robertson.
It looked as if Hodge had won it late on, but his well-struck volley from the edge of the box swerved agonisingly wide.