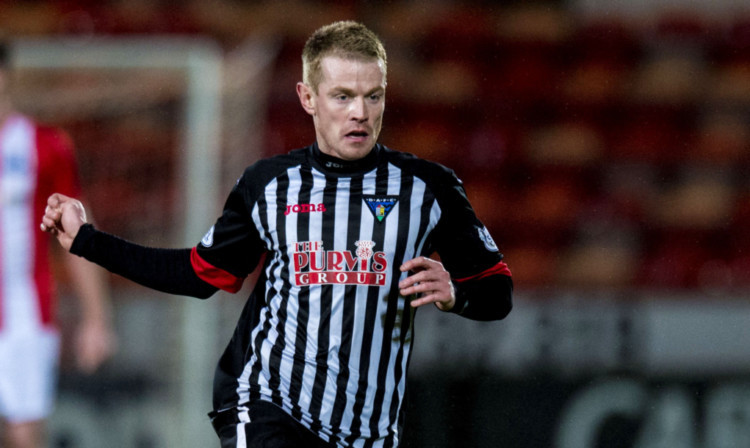 Dunfermline boss Jim Jefferies has secured the services of new captain Andy Geggan for a further two years and revealed further talks are scheduled with previous skipper Josh Falkingham.
Geggan and his agent met the Pars boss at Pitreavie on Thursday and a deal was struck to keep the 26-year-old former Dumbarton and Ayr player at East End Park until at least 2016.
That represented good news for the Fife club as they prepare for next season and The Courier understands that Jefferies has not given up hope of seeing Falkingham in a Pars jersey next term, despite the midfielder turning down the club's initial contract offer.
Several players have been offered new deals in recent weeks and Jefferies was delighted to get Geggan tied down well before his existing contract was up.
"Andy has been in the middle of changing agents but there was never any doubt once we had a chat and sorted it out," said Jefferies.
"We offered him a new two-year contract as he was out of contract at the end of the season and free to move on.
"Everybody is happy and it is a bit of security, so we will see how things go. Next week there will be further chats with boys we've offered contracts to.
"Nobody knows what division we are going to be in but they are all ambitious, which I am glad about because they all want to play at the highest level that they can.
"We want to get this weekend's game out of the way and then plan to chat on Monday with one agent. We're closer."
On Falkingham, who lost the captaincy after rejecting an extension last month, Jefferies added: "I'll be talking to Josh's agent next week as well.
"It's a positive sign, because they've asked to speak to me, so we'll wait and see what happens there. It might be to tell me they're sticking to their guns or that they want to talk further."
Jefferies was concerned about how his players might react to their 4-0 Scottish Cup exit at the hands of Rangers a week ago but admits he need not have worried.
"We've seen a terrific response from the boys in training this week," he said. "From experience, after a result like that, you know invariably you can find some feeling sorry for themselves and you have to gee them up and get them going.
"Or maybe some of them might even be on the treatment table, thinking: 'I don't fancy it today' but not one of them has been on the treatment table.
"They were all out there and have been buzzing all week. They know there's serious competition for places. It's nice to bring in some players and give others a wee rest.
"It's not that they've been dropped, some need a couple of games out of it. We did that against East Fife and we've now got that option."
"The focus now will be on trying to get that play-off place cemented quickly and then it will let us prepare even better for the play-offs by giving some players a rest as we get towards the end of the season."
The Pars head to play Forfar on Saturday and have not found Station Park a happy hunting ground in recent times.
Indeed, they were handed an unexpectedly heavy 4-0 defeat on their last visit.
"We watched the video and couldn't believe how well we played and got beat 4-0," he noted.
"Forfar deserved to win, because they cashed in on the mistakes we made, very easily, and that's what we can't allow to happen again.
"But we're different now because we've got Danny Grainger, Jonathan Page and Ross Forbes back available, so we'll be a much more experienced team than has gone up there in the past, and we'll be looking to bounce back and get a good response."