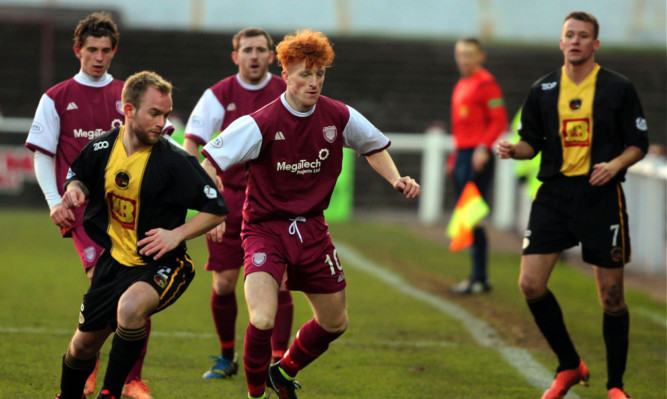 Arbroath manager Allan Moore is confident his League 2 table-topping squad won't succumb to any festive temptations which might prejudice their title-winning ambitions over the next couple of weeks.
The Lichties sit proudly at the summit of the table, five points clear of nearest rivals Queen's Park, after their solid victory over Berwick at Gayfield.
Moore is delighted to be so well-placed at this stage of the campaign but doesn't want to see any slacking off over the Christmas and New Year holidays.
He said: "Some people believe Christmas can be a dodgy period. But you have to rely on the players being professional and this bunch of boys really are.
"They know they've got a championship to chase, so we'll be training on Monday night and again on Christmas Eve in the morning, because the majority of the squad are available.
"Then we have a tough game next Saturday against East Fife. "
The Lichties took the lead in the 28th minute, Simon Murray showing great alertness to clip the ball beyond keeper Michael Andrews after Ricky Little's cross was dummied by Paul McManus.
Bobby Linn doubled the home side's advantage seven minutes after the interval with an outstanding goal.
The former Dundee player took possession in midfield, exchanged passes with Jordan Lowden on the left, then cut in to the box and blasted home from a tight angle.
Moore said: "For the first 20-25 minutes it was fairly even.
"I had to change our formation a bit to stop Steven Notman as he was controlling things so I brought Bobby Linn into the middle of the park to deal with that.
"After we got the first goal I thought we controlled the game and they never looked like scoring. The second goal from Bobby was great. That's the sort of thing he can do."
As there is uncertainty over whether on-loan Hamilton defender Aldin El-Zubaidi will be at Gayfield much longer, Moore also experimented by playing winger Scott McBride in a central defensive role, a move which paid dividends.
The manager said: "McBride was immense. It's great when you try someone in a different position and it pays off.
"I was also really pleased with our central midfielders Adam Hunter and Mark Whatley. They have been brilliant in recent games.
"But I'm also looking to strengthen the squad and the chairman has told me if we need to do that, then he'll try to find the money."