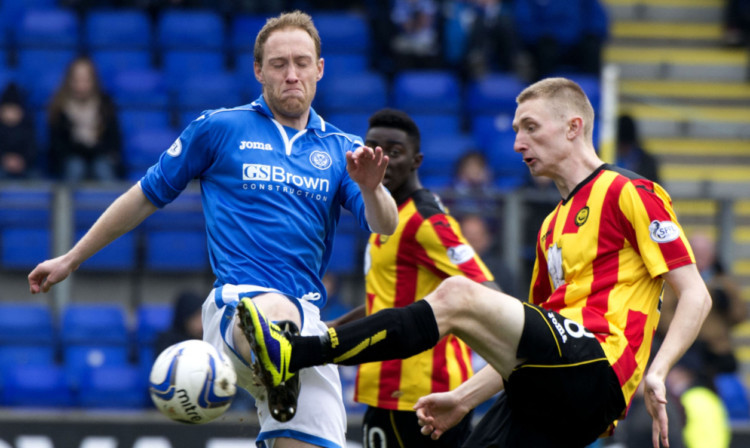 Steven Anderson was described as the "classic unsung hero" by former St Johnstone boss Owen Coyle, and thoroughly deserving of a testimonial year.
Coyle and the other three ex-Perth managers the centre-back has worked under at McDiarmid Park have all paid tribute to one of their most dependable players in their time in charge of Saints.
Anderson's testimonial season was officially launched on Thursday, and John Connolly, Coyle, Derek McInnes and Steve Lomas were all delighted to give it their support.
Former Wigan and Bolton manager Coyle said: "Is Ando really a moaner? You bet. It's part of his DNA. He is a great lad and we recognised at United that he had a good career ahead of him.
"In many ways Ando is the classic unsung hero, but players know how valuable his attributes and attitude are to the team."
Connolly was the man who signed Anderson from Dundee United, and it has proved to be an excellent piece of business.
He noted: "I remember going to see a United reserve game with Geoff Brown and Ando caught my eye. I must have got something right because he has been re-signed by a few managers since those days.
"He might not be flash but he is an eight out of 10 player every week. He fought his corner as a kid and it is the same now. He is a courageous player and that is a fine quality to have."
Anderson and McInnes go furthest back, as the Aberdeen manager explained.
"Ando was my boot boy at United and he deserves a lot of credit for taking the chance to move to St Johnstone when he could have remained in a comfort zone at Tannadice.
"Even in training Ando takes it badly if he concedes a goal. He loves one v one challenges, absolutely relishes them.
"He is so determined to keep the ball out of the net he defends as if his life depends on it and that's a trait I like. Ando and St Johnstone have come a long way together and they have been a great fit.
"They have both flourished over the last 10 years and Ando can be very proud of what he has achieved."
There are others in the Perth dressing room who merit special mention for putting up with Anderson over the years, according to Lomas.
"The lads who have travelled with Ando over the years probably deserve testimonials as well," he joked.
"I can only imagine what driving up and down the road every day with him must be like. He's probably one of the biggest moaners I've ever met, but that's what's made him such a good player over the years.
"It's not very common that players spend 10 years with clubs these days, but Ando has been at St Johnstone through winning the First Division, consolidating in the Premier League and qualifying for Europe."
The man himself insisted that he has loved every minute of being a St Johnstone player.
"The last 10 years has gone really quick, I'm actually quite proud to have lasted a decade at the club," he said.
"It doesn't happen very often and there have been a lot of changes during my time here. I came here from Dundee United for first-team football because I wanted to play.
"John Connolly signed me then he was replaced by Owen Coyle, who I knew from Dundee United. And then when he left, Derek McInnes and Tony Docherty took over. I knew Doc from being my youth coach at United.
"So I was maybe lucky that the club kept appointing managers I knew. But when Steve Lomas came in he seemed to think I was OK and then the gaffer now has taken over from him."