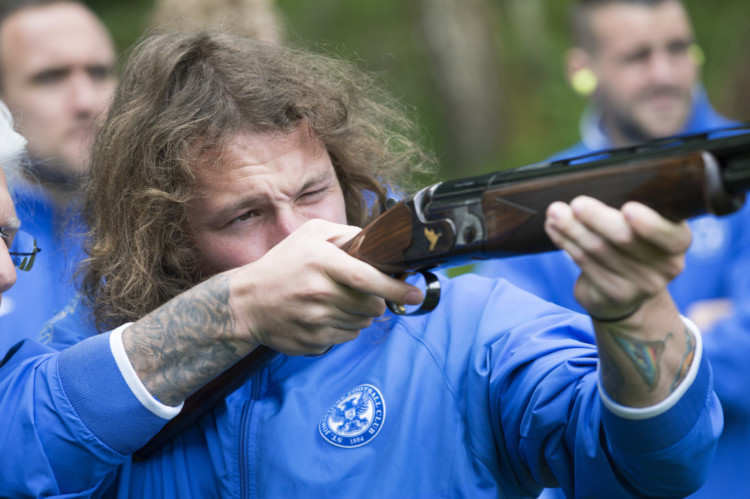 St Johnstone's Scottish Cup final week is off to the perfect start with Stevie May declaring he wants to sign a new contract.
The principle has been agreed and all that now remains is for the club and May's agent to thrash out the terms on an extended deal.
"We've been speaking to the club and I want to stay here," Saints' top scorer revealed.
"I'm happy so there's no reason to want to leave. I'm still developing and can feel myself improving all the time, so this is the best place to do that.
"We have not spoken about figures yet but that will happen after the cup final. We don't want any distractions ahead of Saturday's game so it can wait until that's over. If someone wants to buy me then they'll do that regardless of my contract so that's my take on it.
"This season has been better than anything I could have imagined. At the start I was just hoping to get in the team and score a few goals.
"If you'd told me in the summer I would have scored 27 goals and got to the Scottish Cup final, I would have been delighted with that. It's beyond anything I could have hoped for."
Manager Tommy Wright said: "I met Stevie's agent last week and they've told us he wants to extend his contract for another year on top of next season.
"That's great news, so we'll have to sit down and talk about the financial part of it now. So it's not done yet but we're hopeful it will be. The meeting was very positive.
"It's a massive boost that Stevie is thinking that way, but of course someone could come in with a bid we can't turn down. But the main thing is he wants to stay with St Johnstone, he's said that and it's now down to us to get it agreed and signed."
May wasn't called up fro the Scotland squad to face Nigeria, but Wright is convinced May's selection is a matter of when rather than if.
"Stevie can't be far away in the future and I'm sure Gordon (Strachan) will call him in when he thinks the time is right.
"At the moment Scotland have good strikers so he maybe thinks he's better off getting more experience for the under-21s.
"His time will come, I'm sure of that. A Scotland cap will happen for Stevie, it's just a matter of when.
"Billy Stark speaks to me regularly about him so it's obvious he's on their radar. It won't affect him, he's so level-headed so not getting the shout this time won't bother him one bit.
"He's made unbelievable progress this season and is still improving all the time. So even though he's not got a call-up this time, he's had a great season and there's still another 90 minutes to go."
Living in the city, May can fully appreciate how big a deal this weekend's final is to the local population.
"It has been great walking round Perth and seeing the displays in the windows," he said.
"I've never seen anything like this in Perth before, the city has really got behind us and we're going to take a massive crowd to the final.
"We're just hoping to do it for the city and give the place something to celebrate.
Wright has taken the team to the Dunkeld House Hilton for a two-night break to ease them into the biggest week of most of their careers.
"We want to enjoy this week," he pointed out. "It's new for most of the lads and we've got to embrace it.
"The boys had a few beers on Sunday night, we've relaxed on Monday and did some clay pigeon shooting in the afternoon.
"We've had a meal as a team as well and will train on Tuesday again. The lads will get some time off as well, getting away from it is important too.
"St Johnstone being in the final is a great story, it sums up the magic of the cup. Teams like ours have won the cup in the past and this is our opportunity to give it a go."