 Tommy Wright has banned talk of tiredness at McDiarmid Park for the Premiership run-in.
The St Johnstone players would have more excuse than most for flagging at this stage of the season, as for three campaigns in a row they've had European commitments in the summer.
But there's no sign of the Perth men running out of steam as the battle for a top six place, and possibly another Europa League campaign, hots up.
And Wright puts that down to a combination of their mental attitude as well as strategic rest for his players over the course of the season.
He explained: "The lads have put in an incredible effort over the last three years.
"With the stage we've gone into Europe, Celtic are probably the only team who have had the same workload. And they have a bigger squad specifically to cope with those demands.
"It shouldn't be overlooked because they have been on the go constantly and are still going strong.
"With being in Europe for three years on the trot it has been hard on them but we don't mention tiredness.
"It's not a word we use here because I believe it's a mental state and once you start talking about it and thinking about it, that's what happens.
"We don't recognise it, it doesn't enter the players' minds.
"The older ones know themselves what they have to do to manage themselves and the younger ones are full of energy anyway.
"At this stage of the season recovery is important and that's something we look at.
"But you won't get anyone here moaning about being tired, it doesn't feature in our thinking."
He added: "When I first arrived in Scotland, there was always the talk about being disadvantaged in Europe when you play teams who are mid-season.
"For me that was defeatist so we didn't mention it and we beat Rosenborg and Luzern, who were both into their seasons.
"I believe it's in your head and when you talk about that, it just gives people excuses.
"If you don't mention it then it's not a factor."
Saints have been boosted by the return to full training of midfielder Simon Lappin, while defenders Dave Mackay and Frazer Wright are also expected to be fine for the trip to face Hamilton Accies on Saturday.
Wright reported: "Simon Lappin is back training again so he'll be back in contention for the weekend.
"Dave Mackay and Frazer Wright had planned injections, it was scheduled for the international break anyway, so they'll be ready for Hamilton too.
"We have a busy time coming up and that should have them perfect for the last stage of the season.
"Hopefully we'll have a strong squad going into the last number of games.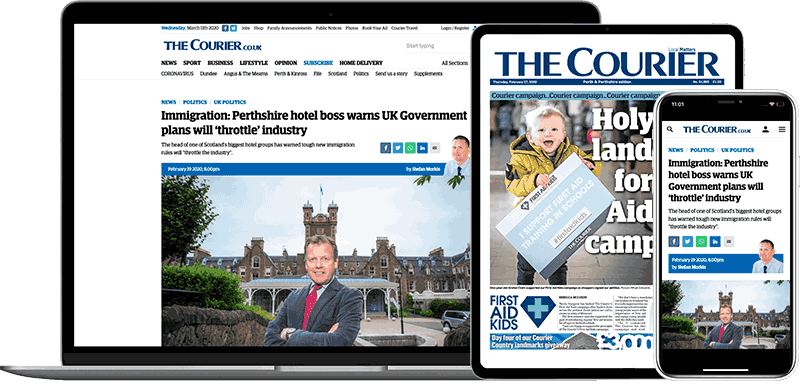 Help support quality local journalism … become a digital subscriber to The Courier
For as little as £5.99 a month you can access all of our content, including Premium articles.
Subscribe