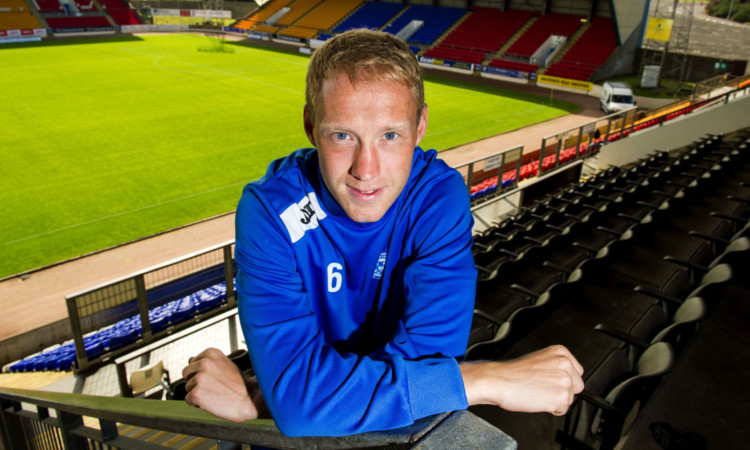 St Johnstone defender Steven Anderson will return to action ahead of schedule after recovering well from the thumb injury that has scuppered his season so far.
The 27-year-old required surgery on a dislocated thumb after falling awkwardly during a league game against Partick Thistle back in September and looked like being sidelined until the end of the calendar year.
However, Courier Sport understands the centre half received good news from a consultant on Monday and should return to full training early next week.
Boss Tommy Wright is looking forward to having the defender back in the fold and reckons a return to first team competition before Christmas now looks a distinct possibility.
"He had been doing passing drills and things like that but we'll be able to increase that over the next week, so he'll return to full training within seven days," he said.
"We were thinking he could return to full training probably around Christmas time so we're now looking at two or three weeks ahead of that, and that's really good news.
"It was a really complex injury and the timeframe that was given to us we were comfortable with. We just had to accept it, but for him to come back early is a bonus."
Striker Steven MacLean is continuing his recovery from the knee surgery he had in November but the chances of seeing him soon are slim, as the three-month initial timescale given following his injury remains the same.
"He's six weeks non-weight bearing before he can start thinking about coming back," he added.
"The consultant reckons he'll have a look at him after six weeks."
With MacLean likely to be out when the transfer window opens in January, Wright says he will assess the situation and his striking options when the time comes before deciding whether he needs to dip into the market.
"If Steven seems to be making good progress and we're comfortable with that, then there's no need to panic," he continued.
"If it looks as if he's got any problems then we might have to look at it.
"I feel the surgeon was really happy with the operation, there was a bit of cartilage trouble there as well, but the surgeon was really pleased with how it went, so we can only go with what the consultant says and he's been happy with it.
"But I think, to be honest, to strengthen we're going to have to have people go the other way as well. I can't see that picture changing and I think that's going to be the case.
"We were able to bring in Sanel (Jahic) in a short-term deal but listen, things can change quickly and the chairman might feel he can release funds to help strengthen.
"At the minute, any movement in will be determined by people going out as well. We're looking at players and we've got a list if this happens or if this happens.
"That's the way we're prepared but, in saying that, we had a player that we liked, we thought we could maybe get him in the window if we needed him, but he moved last week because he can move before the window.
He was at a Premier club in England and went to a Championship club, so the picture changes. You may have targets ready but come January circumstances change, and he might change his mind, so it's an ongoing process."
Wright was pleased with the draw his side were handed in the fifth round of the Scottish Cup on Monday and is not too concerned about the impact competing on several fronts could have on his squad.
"Put it like this, I'd rather be in all competitions than not be," he said.
"And players want to play, so I think we've enough that we can rotate if we have to and if it needs freshened up. Most of the players want to play every week so I don't see it as a problem if it is a problem it's going to be a good problem.
"When the draw was made, I was at a game on Monday and it was half-time so I was watching it on TV in the lounge. I looked at all the teams who were left and you had Celtic, Dundee United, Rangers, Aberdeen and St Mirren.
"That's no disrespect to Brechin or Forfar, and they were probably thinking of all the teams that were left they would probably take St Johnstone as well. I think it fell nicely for us, although it's going to be a difficult tie.
"They are not easy places to go and win, but it's a long way off and we can put that on the back burner and concentrate on the league now for a few weeks. I'll probably go up to the Forfar v Brechin replay next week and then we'll have whoever wins the tie watched near the time."