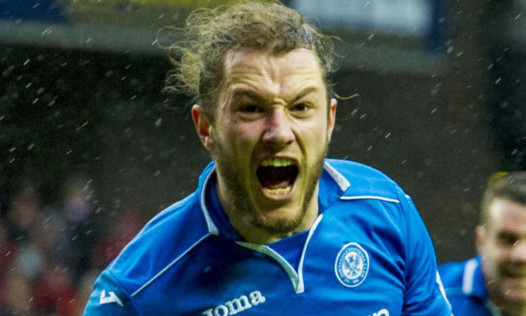 St Johnstone have tested the waters with a view to bringing Stevie May back to Perth.
Manager Tommy Wright believes Sheffield Wednesday will keep the former McDiarmid Park hero in Yorkshire next season.
But if they decide to loan him out, Saints have lodged their interest.
Aberdeen are reported to have done likewise, and Wright will be kept in the loop by his former colleague at Norwich City, Wednesday's football advisor Glenn Roeder.
"We threw our hat in the ring if Stevie was of a mind to come back north on loan," Wright told Courier Sport.
"But I think Stevie May will be at Sheffield Wednesday next year.
"I think he started well there and will still be their player next season.
"We have spoken to them about the situation and have been told the manager wants to keep Stevie May.
"He has had a reasonable first season in a very tough league and we are led to believe he is going to get opportunities next season.
"But we would not have been doing our jobs if we hadn't been interested and looked at the situation.
"I know Glenn Roeder who is going in working in an upstairs role.
"So we have been kept informed of what is happening with Stevie."
Wright added: "Derek (McInnes) likes him. He gave him his debut.
"And Aberdeen are a big club, a resourceful club. I would imagine if Derek is looking to strengthen Stevie would be on his radar.
"He would be on the radar of a lot of clubs.
"Emotional attachment is one thing but the financial attachment overcomes all that!
"We are at the stage of the season when fans will be getting frustrated and asking why aren't we going for this player and that player.
"But every club is working hard right now with a view towards next season. There will be speculation throughout the summer but we will be working hard to improve, as we have done each season."
There was nothing to report on trialist Joe Thompson.
Saints face Celtic tonight and the hosts will be looking to put three points between themselves and Dundee United in the battle for fourth place.
Wright said: "I don't think anybody knows what it will take to get fourth. That's the beauty of it.
"Both teams could lose the next two games and it would go down to goal difference.
"But every point is vital at this stage. If we can get something on the board and apply a bit of pressure that would be good, but we know it's going to be difficult.
"Three points could do it. We might need six. We might actually get six and still not get it.
"We're guaranteed fifth place, which is tremendous, and we've still got something to play for.
"I'd much rather be in our position than in that bottom six where all you've got to play for is avoiding relegation. One or two have nothing to play for in their next couple of games so it's a good position to be in and the players deserve a lot of credit for it. They have had another great season."
Frazer Wright has returned to training and should be available, while Ross County-bound Brian Graham is back in the Perth squad. Dave Mackay misses out and will undergo a hip operation tomorrow.