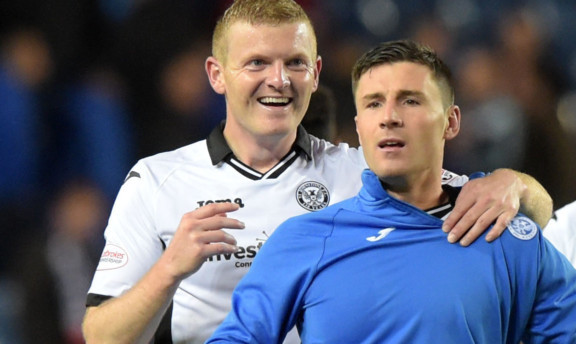 Brian Easton isn't sure whether he played against Michael O'Halloran in under-age football.
But he's 100% certain that he wouldn't like to play against him now.
The St Johnstone team-mates, who share a lift to and from training every day, would be in direct opposition as a right winger and a left back.
"We actually spoke about that a wee while ago," he said. "I don't think we have come up against each other.
"We were trying to work out whether we would have played against each other at youth or reserve level even, but we couldn't remember one.
"I don't know what it would have been like to face him back then, but I wouldn't fancy it now.
"I'm very thankful that I'm not coming up against him. I don't think there's a better right winger in the league."
Dundee's Kevin Holt was the latest full-back to be tasked with putting the shackles on player of the month award winner O'Halloran last Friday.
"To be fair, I don't think there are many left-backs who have been able to contain him," Easton said.
"Even in his quieter games he's popped up with two or three unbelievable runs and set up chances, and you saw that again in the Dundee game the other night.
"The ball for the goal was brilliant. He's getting into great positions and picking out players when he gets there. Friday night was the prime example. He drove with the ball and then waited for David (Wotherspoon) to be in the right position before he picked him out.
"He's obviously very quick but it's doubled up with acceleration. Sometimes as a full-back when a winger slows down you can deal with him, but he can pick up speed straight away and pull away from you. That's what makes him so hard to deal with.
"Plus, he's got the power to make sure you can't move him away with your arms.
"Hopefully he keeps this form going."
Unsurprisingly, scouts are taking an interest in O'Halloran. Easton is sure that the former Bolton man would be a success if went back to England or at the Old Firm. But he hopes that day is still a long way off.
"It would be great for us if he was still here to the end of the season," the ex-Hamilton Accies full-back said.
"I think it would be good for him as well, because you've seen how much he's developed over the last year.
"If he was to make the jump down south or go to a Celtic or a Rangers he would be capable right now to do a job.
"Hopefully he stays though because he's such an important player and another year would only make him better.
The Saints players were in Newcastle last weekend for a Christmas fancy dress night out.
Easton said: "Our car school went as the Flintstones Fred, Barney, Wilma and Betty.
"I probably shouldn't say this, but Mikey was Barney and Sutty was Fred.
"It was a good weekend. We've got a really good team spirit here.
"I think the gaffer likes us to have a time to have a bit of bonding. But that's done with now and we want to keep the run going that we're on. It's back to business."
Steven Anderson is expected to miss today's game, as is Graham Cummins.