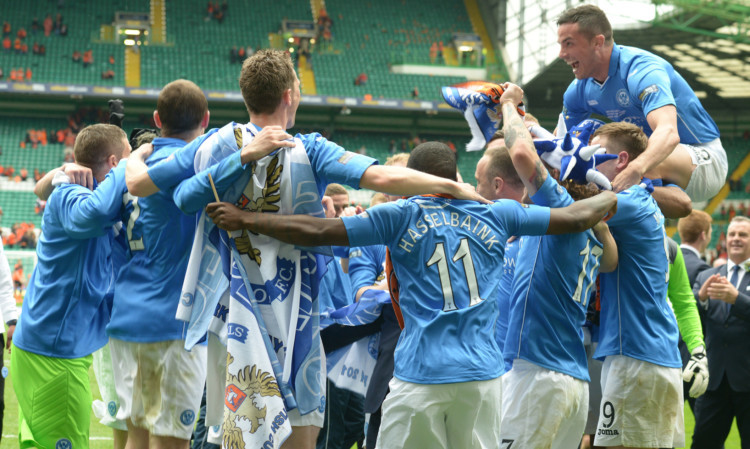 Murray Davidson has opened his heart on the greatest day for St Johnstone that was also the worst of his career.
With refreshing honesty that probably every player in the country will understand and empathise with, Davidson looked back on Saints' thrilling Scottish Cup final victory over Dundee United as the time when he experienced nothing but overwhelming anguish.
The reason for his personal pain was that he was sitting in the stand at Celtic Park instead of playing his part on the park.
He did make it on to the pitch after full-time to join in the celebrations and was at the post-match party at McDiarmid Park on Saturday night and in the city centre the following day as the cup was paraded.
However, Davidson admits that when the first whistle blew to start the game against the Tangerines he was overcome by despair that he wasn't out there himself.
"The Scottish Cup final day was the worst of my career by a mile," said Davidson, who has signed a short-term deal to take him to the end of August as he continues to recover from the serious knee injury that sidelined him since January.
"That's the honest answer. I had so many mixed emotions beforehand because I didn't know how I was going to be at the final. I was fine travelling through because I was on the bus with my family and Steven MacLean's family.
"But as soon as the first whistle went it just hit me. I actually just wanted to go home and watch it there because I couldn't handle it. It was horrible."
Davidson was keen to stress that he felt only delight for everyone else connected with Saints. It is just that the day was two-tracked for him, with personal pain running alongside happiness for others.
"I had a great weekend watching them and seeing how much they enjoyed what they had done," he said.
"The parade was brilliant on the Sunday and we all had a really good laugh, but I didn't play and you can't forget that."
Maybe so, but what you can do is strive to sample success in the future, and that is exactly what he intends to do.
The short-term contract will give him the chance to try to make it back for pre-season training, and the dream scenario for Davidson would be involvement in Saints' Europa League campaign, which kicks off on July 17.
"Finals like that are what you want to play football for, so now I want us to get back there and win it again," he said.
"That's my driving force now. Missing out makes you more hungry to get that chance again.
"I have never been more determined to get back on to a football pitch and be playing.
"For the first time in my life I am looking forward to pre-season training."
He continued: "Watching last season has been by far and away the hardest thing I've had to do. You feel lost because you want to be out there playing and doing your bit."
Davidson has been working with physio Michael McBride and all seems to be on schedule.
"I'm doing four sessions a week at the moment, sometimes double sessions, and I'm building things up," he added. "I've not set any targets, but speaking to Michael he's happy with where I am.
"Everything he has asked me to do I have been able to do, so it's coming along nicely.
"We've not set a date for when I want to be back, we'll see how it goes but I feel good at the moment.
"Signing the deal gives me a bit of security over the summer and means I can just concentrate on getting fit again.
"Once I'm back playing we'll sit down with the club and talk again."
Manager Tommy Wright was pleased to be able to offer Davidson the deal, saying: "We're glad Murray is making good progress and the club had told him we would give him the time to get fit.
"I'm delighted he's agreed the short-term deal and both parties will revisit it in August.
"I know, and the supporters know, what an asset a fit Murray Davidson can be to the team."