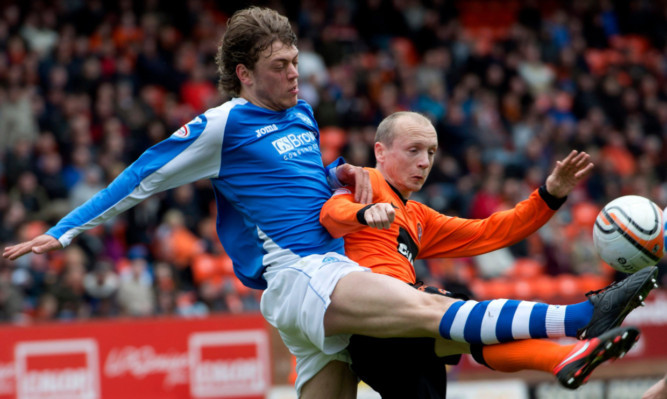 Murray Davidson admits that while he is sad to be leaving St Johnstone, he is delighted to be doing so on a high, after helping the club return to Europe for the second season running.
The midfielder was one of the key men for Saints on Sunday against Motherwell, putting in a powerful performance which came close to being capped with a stunning goal when his 20-yard second-half volley cannoned back off the crossbar.
Davidson is now set to move to pastures new but he admits it will be a big wrench leaving a club that means so much to him.
He said: "We saw last season when we got into Europe just what it meant to everyone at the club and the whole of Perth got involved in it. It was brilliant.
"The fans turned out again for the Motherwell game and were excellent. You could see it means a massive amount and I am delighted that in my last match, I have managed to help give them that.
"This is the end of my fourth year at the club and the time has flown by. I can't speak highly enough about the people at the club, the players, the members of staff, the chairman and the way it is run.
"I can't thank them enough about what they have done for me.
He added: "Hopefully, I have been OK for them as well.
"It is sad that I am leaving but that's football. You have to go and try to better yourself. So I feel it is time to move on but I would like to wish the club every success in the future.
"I haven't decided where I am going yet. I have been trying to put it to the back of my mind and let my agent deal with it. If I had got involved in that, my performances could have dropped.
"It is a long summer and I am sure it will be sorted sooner, rather than later.
"There are options north and south of the border but there are lots of things you have to take into consideration when you are moving clubs. When I moved from Livingston to St Johnstone, there were a number of reasons why I came here.
"It will be the same again and there will be a lot of careful thought going into it hopefully, I make the right decision."
Davidson admitted he felt St Johnstone have not received the credit they are due for the season they have just had, with much of the focus being on the Highland duo of Inverness and Ross County.
He added: "It might seem a strange thing to say now but at the start of the season, you are always trying to get safe as soon as possible.
"Once you have done that and are in the top six, you can set goals about where you want to go. A couple of weeks ago, Europe was within our reach. We always knew we had a squad here capable of having a good season.
"For the majority of the campaign, the team has been excellent and it is thoroughly deserved. The whole place is delighted.
"The team have probably not been given the credit they deserve. But that might have suited us, as a lot of talk has been about the Highland teams.
"We were all at the awards the other night and there was no recognition for the season that we have had.
"You look back and we probably could have had individual or team awards but we are in Europe now and that's a massive achievement, especially as it is the second season in a row."