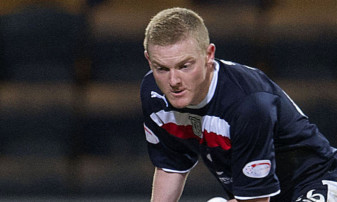 St Johnstone's latest signing Brian Easton has been in the game long enough to know he'll have to earn his spot in Tommy Wright's starting line-up.
But the 25-year-old former Scotland U21 international says he is up for that challenge following a frustrating season in more than one sense of the word at Dundee.
Easton put pen to paper on a one-year deal with the Perth club yesterday and admitted he is relishing a new start with Saints after an injury-hit spell at Dens Park ended in relegation.
"I first heard back in February that Saints had a bit of interest in me so I've been eager to get things tied down," he said.
"Obviously when Steve Lomas left for Millwall I wasn't sure what was going to happen but Tommy Wright has still wanted to take me so I'm happy now everything has been sorted.
"Last season was frustrating, especially the first half of the season, because I was signing quite late on in the transfer window and obviously tearing my hamstring and missing out on a good few games was really frustrating. But I worked hard to get back in the team and managed to finish the season off relatively strongly.
"One thing the gaffer did say when I agreed to come here was that you won't be given anything and you need to work for it.
"You need to work hard to get into the team and you need to work to keep your place and to be honest I wouldn't have it any other way.
"With the competition we've got for places all throughout the squad it's going to make sure the boys are kept on their toes and make sure they will be bringing their A game every week."
Easton has been keeping himself fit over the summer by training with former club Hamilton, and cannot wait for the season to get started, with the Europa League first leg just over a week away.
"I knew that a lot of teams were starting back around about last week so I thought even if it takes a couple of days it was important that I did a couple of days' training and keep myself on similar fitness levels as the boys I was going to be playing with," he said.
"So hopefully now I'll be ready to go with St Johnstone. I heard there was a bit of interest from Kilmarnock and maybe a couple of other clubs but I think if I had the choice it was always going to be St Johnstone.
"Obviously there's the prospect of European football but just the way the whole club is run and the way the club is going I really wanted to come up here.
"It's exciting times at the club to be involved in European football and hopefully we can make a right good go of it and do ourselves, the club and the fans proud.
"It's coming up quite quickly and you need to give credit to the boys who were here last season for securing that European place."
Any player crossing the Tayside derby divide will always be subject to greater scrutiny but Easton hopes Saints fans will not hold his Dundee period against him.
"I wasn't really too aware of the rivalry before last season and then obviously it was a good match to be playing in, but it won't trouble me too much," he said.
"As you do the stuff on the park I don't think it will matter where you played before.
"It was a strange season last year for Dundee, obviously getting into the SPL a couple of weeks before it started then struggling a wee bit to find their feet.
"They played well for a good part of the season but didn't pick up results, and then towards the end of the season we started playing well and picking up results.
"It started looking like we could make a wee challenge of staying up but obviously we fell short. I'm just looking forward to the challenge with St Johnstone now and I'm delighted to be here."