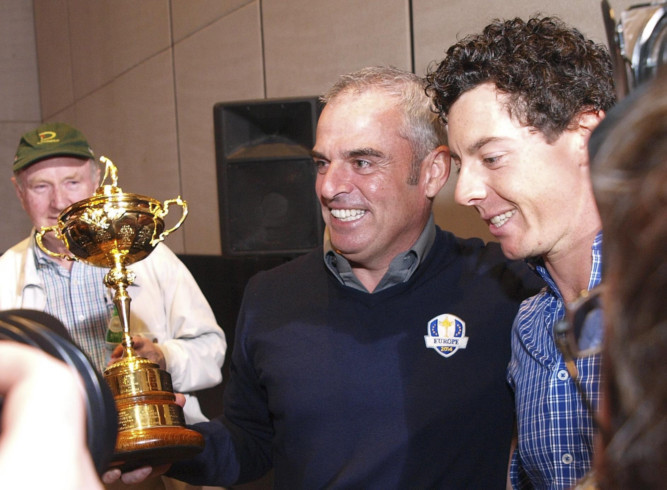 PAUL McGINLEY felt the love of players and fans alike on his first full day as Europe's new Ryder Cup captain.
And it did not take long for him to be reminded of the size and scope of the job he was taking on, as messages of congratulations came in from around the world.
Closer to home or rather closer to him in Abu Dhabi came words of support from Colin Montgomerie, the 2010 captain who in the final days before the decision was taken had become his biggest rival for the task of taking on Tom Watson's America at Gleneagles next year.
"We'll all get behind Paul now we wish him well," said Montgomerie, who thinks the only chance of him captaining the side again after this is if "I do a Tom Watson" and is called upon in his sixties after a string of defeats.
The same words kept coming up from all those delighted by 46-year-old McGinley becoming the first Irish captain in the history of the event.
Graeme McDowell, the 2010 match-winner, said most of them in his message "thoughtful, articulate, prepared, motivated, fair and respected".
So prepared, in fact, that McGinley had even thought about how best to react if he had been informed he had not been appointed.
"I had notes in my pocket about how I was going to project myself and what I was going to do," said the man whose 10-foot putt at the Belfry won the 2002 contest and who has never lost in nine Ryder Cup or Seve Trophy matches as a player, vice-captain or captain.
"I assured George and Richard (European Tour chief executive George O'Grady and Ryder Cup director Richard Hills) that I would act with integrity expected by the tour.
"If it wasn't going to be, despite the players' support (most importantly and most vocally that of Rory McIlroy), I would wish the winner the best of luck and leave it at that knowing that it was probably my last opportunity.
"I don't think I was going to be captain in two years' time."
McGinley does not attempt to disguise the fact that he does not come remotely close to Watson in what they have achieved.
The 63-year-old American has twice as many majors eight, including five Opens, four of them in Scotland as the Dubliner has tournament wins.
Even McIlroy calls it a "David and Goliath" situation, but McGinley agreed with the way Padraig Harrington put it.
"Why try to compete against Tom Watson? We don't have anybody of that stature the only man who could compete against Watson is unfortunately no longer with us and that's Seve (Ballesteros)."
Last year's triumphant captain Jose Maria Olazabal unsurprisingly and understandably played the Seve card to the full last September in the first match to be played since the 1997 captain lost his battle with a brain tumour at the age of only 54.
McGinley has vowed to keep the memory alive it could well be blue sweaters on the final day again but also wants a Scottish flavour to the week.
Do not expect that to include the team playing in kilts, however.
He is a big Celtic fan, but insists he wants to unite rather than divide a nation hosting the Ryder Cup for the first time since 1973.
On taking on Watson, he states: "I'm relishing the opportunity of going against my boyhood hero.
"He is a guy that I really respect. He is a hard man and a fair man."
Two weeks after the "Miracle of Medinah", when Europe came down from 10-4 down to keep the cup thanks to Martin Kaymer's six-foot putt, one newspaper reported that Darren Clarke had won the race to take over from Olazabal.
McGinley did not despair. "I was surprised, but I knew it wasn't true.
"I'm on that committee and no one had contacted me. Last time it was quite clear it was going to be Ollie, but Thomas (chairman Thomas Bjorn) still had to call every person on that committee to get their authority before he could release the news.
"I had not received a phone call, so I knew it wasn't the case."
Rather than coming out fighting with his own claims to the job, however, McGinley, with advice from wife Alison and friends, decided to hold his tongue.
McIlroy and others did the talking for him instead and it paid off.
Clarke eventually decided not even to make himself available for selection, but instead along came Montgomerie.
Again, McGinley was surprised. "He said quite clearly (after the 2010 victory) that he was not going to go again," he said.
"Having said that, he was totally within his rights to change his mind. I had no problem with it.
"He said some really nice things to me in the corridor when the decision was made. I know he will be very supportive of me and the European team."