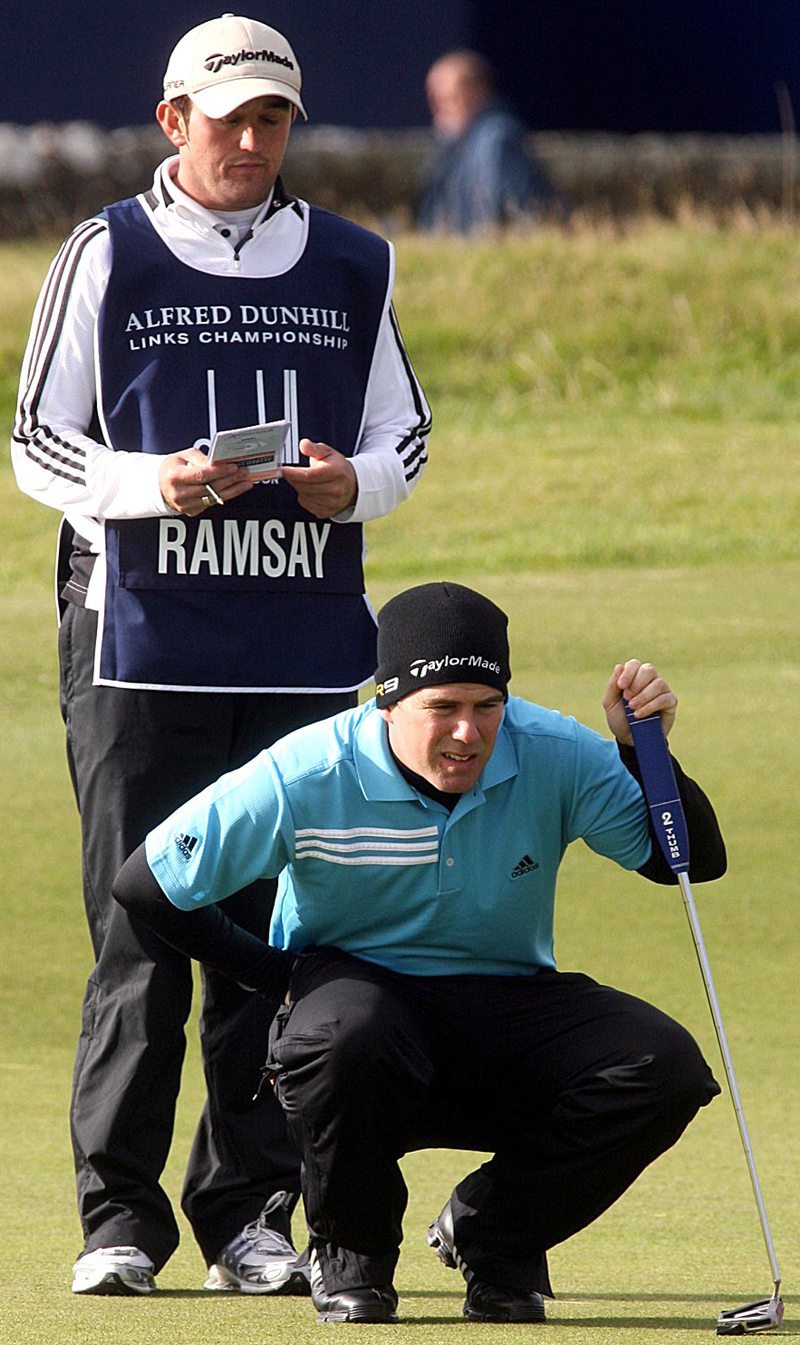 An extra week spent stranded in the USA by the Icelandic volcanic ash cloud may be the catalyst for Richie Ramsay to take the next step to European golf's top order as he challenged the leaders in the BMW PGA Championship at Wentworth.
The 26-year-old Aberdonian, who won his maiden tour title in South Africa at the start of the season, shot a four-under 67 on the toughened West Course on Thursday to lie in a share of third after the first round, two behind young Englishman Danny Willett, whose outstanding 65 leads the field.
Richard Green, the streaky-scoring left-handed Australian, is second after a 66 while Ramsay is one of five who recorded 67s, among whom is last year's runner-up Ross Fisher.
For Ramsay, it was the unexpected extension to one of his frequent practice trips to Georgia and a visit to his club manufacturer's research facility nearby that has restarted him after his win took the pressure off with the two-year exemption for the tour that came with the prize money.
He said, "It wasn't much of a hardship, because I took the time to go down to Taylor Made's place at Reynolds which is only two hours from where I was in Georgia.
"I'd always meant to go and I spent all day there, had the wedges tweaked, just changed the putter a little, and did some testing in good conditions with the right equipment.
"Usually it's an eight-week waiting list but they were kind enough to make a space for me, and it's added to the confidence, especially with my putting, which was outstanding today."
He added, "You wish you had the attitude when you didn't have the exemption but it's hard to do it because it's your job.
"Also with the pressure off you've more time to make changes you're not thinking only two to three weeks ahead, you're thinking months ahead. You can make changes and know in time that it's going to be of benefit to you."
Even after the win in South Africa, unlike a few young players who rest on their laurels after a breakthrough win, the often intense Ramsay sees it just as a springboard.
He said, "It was great to win, it was fantastic, but now I'm coming down 17 or 18 and looking up to see Casey, Harrington, Westwood these are guys I've looked up to a long time, but you want to go out and beat them.
"Just competing with them at that level gives you a buzz and getting up there at all is a big positive, because the only thing I can do is get better."
The visits to Georgia, where his girlfriend Angela lives, have been mostly beneficial with his honorary membership of The Golf Club of Georgia, which he received when he won the US Amateur, and which he uses for warm-weather preparation.
Ramsay said, "They're great to me, the president of the club even loaned me his Mercedes to go down to Reynolds and here's me used to buzzing about in a Ford Fiesta.
"If I get a good finish here I think I'll have to upgrade, but maybe to a BMW."Momentum-changerRamsay's driving on the course has been so reliable that he feels he can shut out fear of trouble off the tee, while his putting form solves a multitude of sins on the greens.
He said, "The eighth was a potential momentum-changer today. I hit a good drive but into a divot, came out short and had to hole a nice 15-footer for par.
"If I'd missed I might have just fallen back a bit but it made a world of difference."
Willett (22), who was a contemporary of Rory McIlroy in their amateur days, had made a good start to his pro career even before his 65 on Thursday.
"I'd be lying if I said I wasn't trying to keep up with Rory and the others," he said, after returning four birdies in his last five holes.
"Most of the time, though, I'm trying to really concentrate on what I'm doing and press to get in the top 100 or the top 50 in the world and the opportunities that will come then."
In his first PGA Willett perhaps benefited by not having experience of the old West Course, although just in case he had an old hand in caddie Malcolm Mason on his bag.
He said, "I took that view that nobody else has really played here before (because of the alterations) and it's a pretty even field as a result.
"The only way where experience pays is maybe the wind swirling in the trees but Malcolm has been round here millions of times and he comes in on that."
Willett certainly outclassed McIlroy on this occasion as the 21-year-old needed two birdies in his final three holes to manage a three-over 74, which was much better than the fancied Ian Poulter, who had a 78.
The other favourites did better Casey and Westwood with 70s, Harrington a par 71 after a visit to the trees and a holly bush for a triple-bogey eight on the 17th, and Luke Donald shot a 68.
Apart from Ramsay, there was further encouragement for the Scots in Stephen Gallacher's 69, after he only got into the championship on a sponsor's invitation, and through Paul Lawrie's par 71.
"Having got in so late, it's good to have performed," said Gallacher, whose medical exemption ran out two weeks ago, leaving him on a much lower Q-school exemption category.
The better the former Alfred Dunhill Links champion plays over the next few weeks, the more chance he can get more invitations, having already secured one for the Barclays Scottish Open at Loch Lomond.
Colin Montgomerie toiled to a two-over 73 and managed to give the slip to pressmen all agog at what he might say about his beloved Wentworth's redesign.
Stirling's Craig Lee, who got a slot in the championship as a result of being Tartan Tour champion, shot a superbly solid round with only one dropped shot and finished with a two-under 69 to be well set for the weekend.